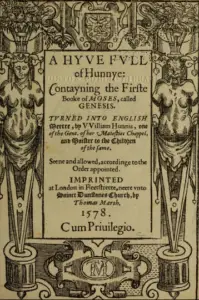 On this day in Tudor history, 6th June 1597, Tudor musician William Hunnis died.
Hunnis died a natural death, although he had been involved in a plot against the Crown in Mary I's reign.
Here are some facts about William Hunnis:
Nothing is known about his background, but he served William Herbert, Earl of Pembroke, before becoming a gentleman of the Chapel Royal by 1552.
In 1556 he was imprisoned in the Tower after being involved in a plot with his friend, Nicholas Brigham, who was keeper of the Treasure House at Westminster. The plot was the Dudley Plot, a plot by Sir Henry Dudley to rob the treasury and depose Mary I and Philip of Spain. Luckily, Hunnis didn't lose his head and he was released when Elizabeth I became Queen.
In 1559, following Brigham's death in 1558, Hunnis married his widow, Margaret, but unfortunately she died later that year.
By 1562, he was a gentleman of the Chapel Royal once more.
In 1560, Hunnis married Agnes Blagge, the widow of a grocer, and that autumn he joined the Grocers' Company. The couple settled in a house and shop near London Bridge.
In 1566, Hunnis was appointed Master of the Children of the Chapel and he directed plays at court between 1568 and 1575, and 1581 and 1584.
In 1575, in the entertainments commissioned by Robert Dudley for Elizabeth I's visit to Kenilworth Castle, Hunnis contributed "a device of the Delivery of the Lady of the Lake".
Agnes died in 1588 and Hunnis died on 6th June 1597.
His best work was his 1576 The Paradyse of Daynty Devises, and he wrote several poems that were set to music by composers such as William Byrd. He also set scriptures to verse, for example, in his 1578 "A Hive full of Hunnye", which is the Book of Genesis turned into verse.
Also on this day in Tudor history...