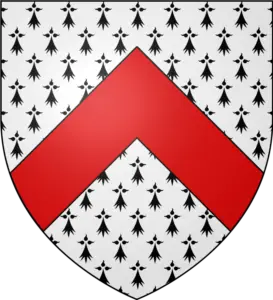 On this day in Tudor history, 28th June 1497, in the reign of King Henry VII, Sir James Tuchet, 7th Baron Audley, was executed.
Audley was one of the commanders of the Cornish Rebellion, which had been caused by the king's new legislation regarding tin mining and heavy taxation to fund his Scottish campaign.
The rebellion had been initially led by blacksmith Michael Joseph and lawyer Thomas Flamank. Audley joined them as they marched through Somerset.
On 17th June 1497, their rebellion came to an end when they were beaten by crown forces at the Battle of Blackheath. The three commanders were captured and Flamank and Joseph were hanged, drawn and quartered at Tyburn on 27th June, and Audley beheaded on Tower Hill on 28th.
You can find out more about the Cornish Rebellion in a special talk that historian Julian Humphrys did for the Tudor Society - click here.
Also on this day in Tudor history...
Image: Arms of Tuchet: Ermine, a chevron gules, Wikimandia, Creative Commons.