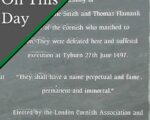 On this day in Tudor history, 27th June 1497, in the reign of King Henry VII, two of the chief commanders of the rebels of the Cornish Rebellion were executed.
Lawyer and member of Parliament Thomas Flamank and blacksmith Michael Joseph (known as Michael an Gof) were hanged, drawn and quartered at Tyburn in London.
What had led them to this awful end?
What was the Cornish Rebellion about and why do they have "fame permanent and immortal"?
[Read More...]