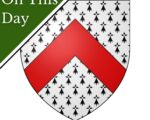 On this day in Tudor history, 28th June 1497, in the reign of King Henry VII, Sir James Tuchet, 7th Baron Audley, was executed.
Audley was one of the commanders of the Cornish Rebellion, which had been caused by the king's new legislation regarding tin mining and heavy taxation to fund his Scottish campaign.
The rebellion had been initially led by blacksmith Michael Joseph and lawyer Thomas Flamank. Audley joined them as they marched through Somerset.
[Read More...]