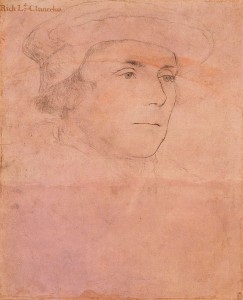 On this day in Tudor history, 12th June 1567, Richard Rich, 1st Baron Rich, died at Rochford.
Rich served Edward VI as Lord Chancellor and Mary I as a privy councillor, but he is mainly known for his involvement in the cases of Sir Thomas More and Protestant martyr Anne Askew.
As solicitor general, in 1535, Rich was involved in prosecuting his former friend and colleague, Sir Thomas More. He interviewed More at the Tower and reported at his trial that More had denied the royal supremacy. This was enough to convict More.
In 1546, Rich and Lord Chancellor Thomas Wriothesley tortured Anne Askew, turning the rack themselves in an attempt to get her to name women at court who were heretics.
He did not serve on Elizabeth I's council.
Click here to read more about Richard Rich.
Also on this day in Tudor history...
Image: A preparatory sketch of Richard Rich, 1st Baron Rich, by Hans Holbein the Younger.