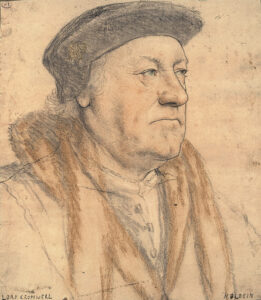 On this day in Tudor history, 13th June 1535, or possibly 14th, Tudor courtier and nobleman, George Neville, 3rd Baron Bergavenny, died at his home at Eridge in Sussex.
Neville, who was related to Richard III's queen consort, Anne Neville, was knighted at Richard's coronation in 1483. In Henry VII's reign, he was a member of the king's council and in 1513 became a Garter knight. However, in Henry VIII's reign, his career was adversely affected when his father-in-law, Edward Stafford, 3rd Duke of Buckingham, fell in 1521. Neville was imprisoned for a year in the Tower of London, and although he was pardoned, he lost his offices and was forced to sell his home, Birling, to the King. He bought back his home in 1530, when he had once again risen in favour. He was buried at Birling.
Here are some more facts about Baron Bergavenny...
George Neville was born in around 1469 and was the eldest son of George Neville, 2nd Baron Bergavenny, and his first wife, Margaret Fenne.
His title came from his paternal grandfather's marriage to Elizabeth Beauchamp who was the heir to lordship of Abergavenny.
He became Baron Bergavenny in 1492 on the death of his father.
In 1497, Bergavenny helped Henry VII put down the Cornish Rebels at the Battle of Blackheath.
He sat in the House of Lords from January 1497 and was a member of the king's council.
In 1507, Bergavenny was indicted for illegally retaining a body of 470 dependants, which was contrary to the Statute of Liveries. He was fined £100,000 and forbidden to enter several southern counties without Henry VII's consent. When Henry VIII became king, Bergavenny was pardoned and his fine cancelled.
Bergavenny was a keen jouster in the reigns of Henry VII and Henry VIII.
In 1520, he attended the Field of Cloth of Gold and Henry VIII's meeting with Charles V at Gravelines.
He was married four times times: Joan Fitzalan; Margaret Brent; Mary Stafford (daughter of the Duke of Buckingham), with whom he had six surviving children, including Henry Neville, 4th Baron Bergavenny, and Mary Brooke, sister of Lord Cobham, who'd previously been his mistress.
As well as being imprisoned following the fall of his father-in-law, the Duke of Buckingham, in 1521, he also lost his seat on the king's council and was treated with suspicion.
In 1530, he was one of the noblemen who signed the petition to the pope asking for the pope to annul Henry VIII's marriage to Catherine of Aragon.
In 1530, he was able to buy back his home at Birling from the Crown.
He died on 13th or 14th June 1535.
Also on this day in Tudor history...
Image: George Neville, 3rd Baron Bergavenny, by Hans Holbein the Younger.