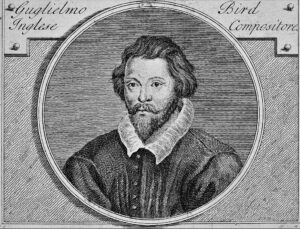 On 4th July 1623, Elizabethan composer, William Byrd died at Stondon Massey in Essex.
Byrd served as a gentleman of the Chapel Royal from 1572, and in 1575 he and fellow composer Thomas Tallis were granted a patent for the importing, printing, publishing, and sale of music, and the printing of music paper for a period of twenty-one years. They published a collection of 34 motets - 16 written by Tallis and 18 by Byrd, in 1575 as their first work.
He was described as "a father of Musick" in the Chapel Royal cheque book and his biographer, Craig Monson, writes that "Byrd was the first Englishman to master fully the quintessential feature of continental Renaissance music, systematic but flexible imitative textures".
Find out more about him, and enjoy some of his compositions, by clicking here.
Also on this day in Tudor history...
Image: An undated etching of Byrd by Gerard Vandergucht (after Nicola Francesco Haym)