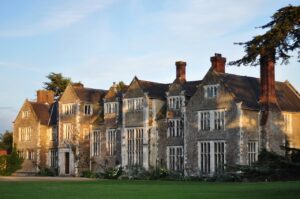 On this day in Tudor history, 30th January 1520, in the reign of King Henry VIII, member of Parliament, Protestant, landowner and administrator, Sir William More, was born. More's offices under Elizabeth I included Chamberlain of the Exchequer.
More was the only surviving son of Sir Christopher More of Loseley, a powerful administrator in Henry VII's reign, and his wife, Margaret Mudge.
The Protestant More came to the forefront in the reign of Queen Elizabeth I, serving her as Constable of Farnham Castle, Treasurer of the Lottery, Commissioner for Ecclesiastical Causes, Collector of the Loan, Master of Swans and Deputy Custos Rotulorum, as well as Chamberlain of the Exchequer. He was also a commissioner on various commissions of oyer and terminer during her reign.
More was a member of Parliament for Reigate in 1547, Guildford in Mary I's reign, and then Grantham, Surrey and Guildford in Elizabeth I's reign.
More was married twice, first to Mabel Digneley of the Isle of Wight, and then to Margaret Daniel of Swaffham in Norfolk, with whom he had a son and two daughters. His daughter, Elizabeth, served Elizabeth I as one of her ladies.
More was close friends with William Cecil, Lord Burghley, the Earl of Leicester, the 1st Earl of Lincoln, and the queen herself. More's son-in-law, who was the queen's Latin secretary, told More that the queen "fell in speech of you, with great good liking and commendation, willing me to send you word that she did perceive that where the young sort of men, wanting experience and trust, did forget their duties, such old servants as you are would remember themselves."
More was also close to Sir Thomas Cawarden, a man who was involved in Wyatt's Rebellion in 1554.
Between 1562 and 1568, More built Loseley House (now Loseley Park), using stone from Waverley Abbey, and the queen stayed there on several occasions. She knighted More in 1576.
More was taken ill suddenly in 1594, causing his daughter, Elizabeth, to leave her duties at court, and he never recovered properly. He died on 20th July 1600 and was laid to rest at the Loseley Chapel at St Nicholas's Church, Guildford. An epitaph there includes the words "evermore a zealous professor of true religion, and a favourer of all those ... truly ... religious, spending his days in the service of our late sovereign of blessed memory, Queen Elizabeth, in whose favour he lived and died ..."
His heir was his son, George, who became chancellor of the Order of the Garter and Lieutenant of the Tower of London. He was also survived by his daughters Elizabeth and Anne.