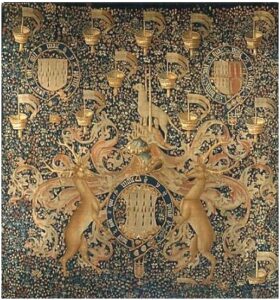 On this day in Tudor history, 28th January 1501, in the reign of King Henry VII, politician and administrator John Dynham, 1st Baron Dynham, died at his home at Lambeth. He was buried at the London Greyfriars on 30th January.
Here are a few facts about this Tudor baron...

Dynham was born in around 1433 and was the son and heir of Sir John Dynham of Nutwell in Devon, and his wife, Elizabeth Arches.
His father died in 1458 but his mother continued residing at the family home at Nutwell until her death in 1496.
In 1459, following the Yorkist defeat at Ludford Bridge, Edward, Earl of March, the future Edward IV, took refuge at Nutwell and Dynham owned the ship on which they fled to Guernsey and then Calais. Dynham was attainted with the Yorkists at Coventry for his part in this. In 1460, from Calais, Dynham led two successful raids against Crown forces at Sandwich, capturing Lord Rivers, father of Elizabeth Woodville, on one of them. He was rewarded by being made sheriff of Devon and lord chancellor of Ireland.
In 1467, Dynham married Elizabeth Fitzwalter, widow of John Ratcliffe.
He fought on Edward IV's side at Towton, was a member of the king's privy council, and was made Baron Dynham in 1467. In 1475, he commanded a fleet during Edward's French campaign.
Grants in Edward IV's campaign included lands in Devon and Cornwall.
In 1483, he was made Lieutenant of Calais and continued in the position after the accession of King Richard III.
In around 1485, following the death of his first wife, Dynham married Elizabeth Willoughby, sister of Robert Willoughby, who became steward of the new king, Henry VII's household. The couple went on to have two children: George and Philippa, who both, sadly, died young.
Although Dynham's sister's husband, Lord Zouche, was attainted after the Battle of Bosworth, Dynham was not affected by the fall of Richard III and rise of Henry Tudor.
In 1486, Dynham was appointed Lord High Treasurer of England, and in or before 1487, he was elected to the Order of the Garter.
In 1495, Dynham's stepson was attainted for treason, but it had no effect on Dynham.
In 1497, Dynham was a commissioner for the trial of James, Lord Audley, who was executed.
Dynham died on 28th January 1501. He was survived by an illegitimate son, Thomas, who was granted land in Buckinghamshire, but his estates were divided between his four sisters' families as Dynham's brothers had all predeceased him and died childless.
Image: This Flemish tapestry in the Met Museum's Cloisters Collection is linked to Dynham as it bears his armorial bearings and heraldic badges.