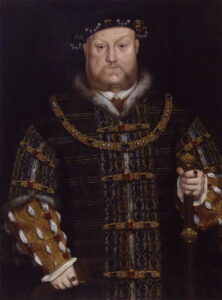 On this day in Tudor history, 31st January 1547, Lord Chancellor Thomas Wriothesley announced the death of King Henry VIII to Parliament. The king had died on 28th January.
Chronicler and Windsor Herald Charles Wriothesley records the late king's son, nine-year-old Edward, being officially proclaimed king:
"Imediatlie the said lordes in their ordre, with Garter, the King of Haroldes [heralds], and other, in their cote armors, came out of the Perliament Chambre into the Palace of Westminster Hall with a trumpett, and their proclamation was made by the said Garter under the Kinges brode seale. Edward the Sixth, sonne and heire of our late Soveraigne Lord, to be King of this realme of England, France, and Ireland, Defendour of the Faith, &c., and of the churches of England and also of Ireland the Supream Head, ymediatlie under God, on earth.
Also that daie, at tenne of the clocke, the major and aldermen assembled in the Guildhall in their skarlett gownes, and Clarentius, one of the kinges of haroldes, with tow other haroldes and a trumpeter, and so rode from thence with my lord major and aldermen to Sainct Magnus Church corner, where proclamation was made by Clarentius, after the blowing of the trumpett tow tymes, under the Kinges broade seale, Edwarde the Sixth, with the death also of Henry the Eight, the Kinges Majestys father, and so from thence they rode in order to Leaden Hall [by] the Standard in Cheepe to the conduite in Fleet Streete, where also the said proclamation was made."
The crown had been successfully passed to Edward VI, but the instructions given in Henry VIII's will regarding sixteen executors acting as a council of equals to help his son reign until his majority, were not followed. Edward's uncle, Edward Seymour, became Lord Protector and Governor of the King's Majesty, instead.
Image: The Montacute House portrait of Henry VIII.