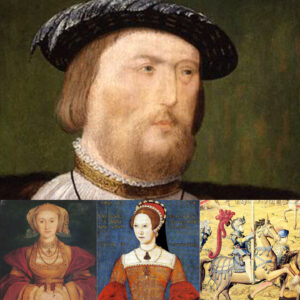 On this day in Tudor history, 19th January 1561, in the reign of Queen Elizabeth I, Sir Edward Carne died in Rome. He was about sixty-five years of age.
The administrator and diplomat, who came from Glamorgan in Wales originally, carried out diplomatic missions for King Henry VIII, was a royal commissioner during the dissolution of the monasteries, negotiated for a fourth marriage for Henry VIII after the death of Jane Seymour, was Mary I's English ambassador to Rome, and claimed descent from the Kings of Gwent! An interesting man.
Let me tell you a bit more about Sir Edward Carne's work for Henry VIII regarding his fourth marriage...
In October 1538, a year after Jane Seymour's death, Carne, Thomas Wriothesley and Stephen Vaughan were sent to negotiate to Brussels to negotiate with Emperor Charles V's sister, Mary of Hungary, regent of the Netherlands, regarding two potential marriage matches: that of King Henry VIII and Christina of Denmark, Duchess of Milan, and Henry VIII's eldest daughter, Mary, and Dom Luis of Portugal.
Christina, who was nearly seventeen at the time, was not keen on the idea of marrying the English king, allegedly saying "If I had two heads, one should be at the King of England's disposal", and the regent Mary, her aunt, was not keen either. In January 1539, Wriothesley advised Thomas Cromwell that the king should ""fyxe his most noble stomacke in some such other place", and so he did. In March 1539, Carne was sent with Nicholas Wotton and Richard Berde to Cleves to negotiate a marriage between Henry VIII and one of the Duke of Cleves' sisters, Anne of Cleves, and a marriage between Henry's daughter, Mary, and the duke himself. The king's instructions to the three men included obtaining a picture of Anne.
The idea that Mary marry the duke came to nothing, but Henry VIII did, of course, marry Anne of Cleves, taking her as his fourth wife on 6th January 1540, although the marriage lasted just 6 months.
Why was Carne in Rome at his death on 19th January 1561?
Well, from 1555 he had served there as Mary I's ambassador. In 1559, following her accession to the throne, Queen Elizabeth I recalled him but it appears that Carne was not keen on leaving and the pope helped him by making him warden of Rome's English College, a position he held until April 1560. A monument erected by his friends outside the Church of San Gregorio Magno still stands today.
Image: Portraits of Henry VIII, Anne of Cleves, Mary I and Dom Luis of Portugal.