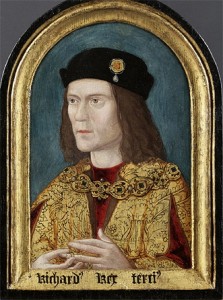 King Richard III, the last of the Plantagenet kings, was born Fotheringhay Castle, Northamptonshire, on this day in history, 2nd October 1452.
Here is an extract from my book Illustrated Kings and Queens of England on Richard III.
Richard III (1452-1485)
Rule: 1483-1485
Marriages: Anne Neville, daughter of Richard Neville, 16th Earl of Warwick
Issue: Edward of Middleham. 2 illegitimate children: John of Gloucester; Katherine Plantagenet.
Richard III was born on 2 October 1452 at Fotheringhay Castle and was the youngest son of Richard, Duke of York, and Cecily Neville, daughter of the Earl of Westmorland. He became king after deposing his nephew Edward V in June 1483 and was crowned on 6 July 1483 at Westminster Abbey.
In September 1483, Henry Stafford, Duke of Buckingham, led a rebellion against Richard with the intention of deposing him and putting Henry Tudor, Earl of Richmond, on the throne. The rebellion was quashed and Buckingham was executed. However, Henry Tudor, who was in exile in Brittany, landed at Milford Haven, in Wales, on 7 August 1485 with a force made up of his English supporters and French mercenaries.
Richard and his forces met Henry's on 22 August 1485 near Market Bosworth in Leicestershire at the Battle of Bosworth. Although Henry had managed to build an army of around 5,000 men, Richard's men are thought to have numbered around 12,000. Richard must have felt confident that he could squash Henry, particularly when they finally met and Henry's men were struggling to negotiate marshland and Richard's men were on higher ground. Richard and his army certainly had the advantage, particularly as Henry had no battle experience. Richard took the initiative and sent the Duke of Norfolk and some men out to attack Henry's men, who had become strung out in a line below them after being forced to circle around the marsh. Fortunately for Henry, he had the Earl of Oxford, an experienced soldier on his side, who knew just what to do. Oxford quickly created a wedge of men between two banners and, in the fighting that followed, the Duke of Norfolk was killed. Things looked good for the king until the Stanleys, who had been watching events unfold but had not committed their armies to any particular side, made a decision. As Richard III's cavalry clashed with Henry and his men, who had been on their way to appeal to the Stanleys, William Stanley ordered his men to attack the king and his cavalry. Before the Stanleys and their men reached Henry and Richard, Richard's men managed to kill Henry's standard bearer Sir William Brandon, and unhorse Sir John Cheyne, but the tide turned when Stanley's men reached the spot. King Richard III, himself, was killed and Henry Tudor was crowned King Henry VII later that day when Richard's crown was recovered.
Richard was buried in the choir of the Grey Friars monastery. Human remains were found in an archaeological dig in a Leicester car park in 2012 and DNA results proved that "beyond reasonable doubt" the remains were Richard III. The skeleton showed that the King had suffered from a scoliosis of the spine and that a large wound to the base of the skull, probably from a halberd, and a blow from a bladed weapon had killed him. His remains were reinterred at Leicester Cathedral.
Here are some Richard III resources from the Tudor Society archives to celebrate this English king's birthday...
Richard III and the Wars of the Roses online course - Toni Mount, who writes regular articles for Tudor Life magazine has devised an excellent online course on Richard III and the Wars of the Roses and you can find out more at MedievalCourses.com.