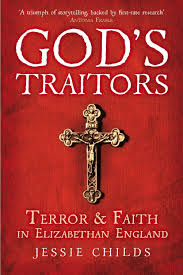 Today is the release of the paperback edition of Jessie Childs' God's Traitors: Terror and Faith in Elizabethan England, which is one of my favourite non-fiction history books of all time. To celebrate the release, Jessie is kindly donating a signed book for a competition over at The Anne Boleyn Files - click here - and also two coupons to get the audiobook of God's Traitors completely free from Audible.com.
The audiobook competition is exclusive to Tudor Society members and all you have to do is comment below saying why you'd like to win one of these coupons. Comment before midnight Friday 13 March and two comments will be picked at random shortly after that. I will then email the coupon codes to the winners.
Note: You will need to have a US address to be able to use the coupons on Audible.com
Book Blurb
The Catholics of Elizabethan England did not witness a golden age. Their Mass was banned, their priests were outlawed, their faith was criminalised. In an age of assassination and Armada, those Catholics who clung to their faith were increasingly seen as the enemy within. In this superb history, award-winning author Jessie Childs explores the Catholic predicament in Elizabethan England through the eyes of one remarkable family: the Vauxes of Harrowden Hall.
God's Traitors is a tale of dawn raids and daring escapes, stately homes and torture chambers, ciphers, secrets and lies. From clandestine chapels and side-street inns to exile communities and the corridors of power, it exposes the tensions and insecurities masked by the cult of Gloriana. Above all, it is a timely story of courage and frailty, repression and reaction and the terrible consequences when religion and politics collide.
I'm sure you'll also be interested in reading the Q&A with Jessie in the September issue of Tudor Life - click here to read the magazine now.