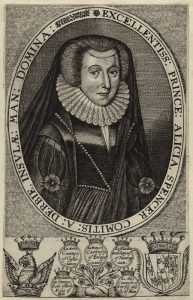 Alice was the youngest of eight daughters of Sir John Spencer (d.1586) and Katherine Kyston. She was born at Althorp, the seat of the Spencer family in Northamptonshire. Sir John was a prominent English gentleman, landowner, sheriff and Member of Parliament. John's family would continue a dynasty that would grow throughout the seventeenth/eighteenth century as one of the country's foremost aristocratic families. John's motivation enabled the family to acquire great wealth through skilful land management and sheep farming, with all the Spencer daughters provided for in their marriages.
Alice married twice, with her first husband being Ferdinando Stanley, Lord Strange, heir to the earldom of Derby. His mother was Margaret Clifford, Countess of Derby, a claimant to the English throne through her maternal grandmother, Mary Tudor, Queen of France and sister to the former king, Henry VIII. This placed Ferdinando in a precarious situation, as his existence would be viewed with suspicion by the queen. This sense of Queen Elizabeth's anxiety is evident from her treatment of Lady Katherine Grey, who was placed under house arrest several times (sister of Lady Jane Grey, another potential claimant to the throne through Mary Tudor). Alice and Lord Strange had a reportedly affectionate marriage that produced three daughters: Anne, Frances and Elizabeth.
Alice became Countess of Derby upon her husband succeeding to the earldom of Derby on 25th September 1593. She would later retain this title during her second marriage to the 1st Viscount of Brackley, as countess was naturally more prestigious. At the same time as he became Earl of Derby, Ferdinando also became Lord of Mann.
During their marriage, the earl and countess became associated with the renowned Elizabethan poet, Edmund Spenser. The Spencer family were, at this time, known for their patronising of artists. In Spenser's eclogue Colin Clouts Come Home Again (1595), Alice is represented as the character Amaryllis (her sister, Elizabeth, was represented as the character 'Phyllis' in this poem). Author and historian John. Rollett argues that this pastoral poem suggests the closeness of Alice, Ferdinando and Spenser as it was completed just after the death of Ferdinando in 1594. Similarly, it contains a moving tribute to him under the name of Amyntas, continuing, 'Amyntas quite is gone and lies full low, having his Amaryllis left to mine. Help Amaryllis, this her loss to mourn: Her loss is yours, your loss is Amaryllis'.
The association of Spenser and Alice is not surprising: she was a beautiful, well-educated and cultured renaissance woman. Ferdinando was one of the wealthiest noblemen in the country and sponsored playwrights and poets, eventually forming his own acting company, Lord Strange's Men. As a result of Alice's cultivated nature, she regularly performed in the fashionable and exclusive court masques performed before the royal family. Particularly significant was her role in Ben Johnson's 'Blackness'. The masque is viewed, in contemporary society, as a controversial piece that witnessed the leading women disguising themselves as African women by painting their faces black. This was performed before King James I and Queen Anne on Twelfth Night, 6th January 1605. The countess made an additional appearance in the sequel to this masque, entitled the masque of Beauty performed in 1608. The plot essentially follows the women's' 'cleansing' of the black pigment they wore on their face in the previous masque. Evidently, Alice was part of an elite group of women honoured with this position, which included the countesses of Arundel and Bedford, and Lady Arbella Stuart.
Ferdinando's death in 1594 left Alice in a precarious situation. She had enjoyed a luxurious and cosmopolitan existence as his wife, and while they had three daughters, she had not produced a male heir. This made her a highly eligible, and young, dowager countess. Eight years later she would secretly marry Sir Thomas Egerton, 1st Viscount Brackley, with her daughter Frances being betrothed to his son and heir, John. Sir Thomas was an English nobleman, judge and statesman from the well-established Egerton family. An educated man who studied at Oxford and became a barrister in 1572, he was wealthy enough in 1601 to purchase Harefield House in Middlesex for Alice, which she lavishly refurbished. Alice's fashionable existence continued with Egerton, performing for Queen Elizabeth at York House, London, in 1601 and hosting the royal progress to Harefield in 1602. While this was an honour, it was rather unenviable among Elizabethan contemporaries. Royal visits and/or progresses were hugely expensive affairs, paid for by the hosting family.
Egerton was not always accommodating of Alice's lavish lifestyle. As a methodical and money conscious politician, he attempted to limit her spending to the best of his abilities. However, he did purchase the Stanley manor of Ellesmere in 1600 for her and forced William, her former husband's brother and successor, to settle £20,000 upon Alice and her daughters. Ferdinando's brother William succeeded to his earldom upon his death and bequeathed little to Alice, with the two maintaining a bitter relationship. Upon Ferdinando's death, rumours circulated that he was poisoned, but these accusations have neither been proved nor disproved. During this period, it was common for such hearsay to accompany sudden deaths. In contrast, a letter to Sir Thomas Heanage (the vice-chamberlain) from Sir George Carey suggests another cause of death. He wrote, 'I find greater presumptions that the earl of Derby was bewitched, rather than poisoned'. Again, this was a completely plausible explanation from a late sixteenth-century perspective. While not financially stable following her first husband's death, historian Katherine Walker argues that Alice was a competent woman who utilised her court connections to ensure her family's protection. Prior to Ferdinando's death in 1594, she had sent letters to William Cecil lobbying him for support in regard to her husband's estate and will. She was evidently aware that she would be left in a precarious situation and was attempting to align herself with powerful allies who would support her case against her brother in law. However, she eventually found support in her second marriage to Sir Thomas Egerton.
Alice's second husband, Thomas, died in 1617 and according to Katherine Walker between this date and the early 1630s, Alice does not seem to have continued her interest in literary and court patronage. She became, as historian Louis A. Knafla states, a 'rural queen', retiring from court life to the seclusion of her country residence of Harefield House. While her activities at the latter end of the Jacobean reign were not as prominent as previously (it is also important to remember that Queen Anne, a literary patron herself, died in 1619) she maintained an exceptionally busy lifestyle at Harefield. Her country residence was essentially transformed into a cultural learning centre; preparing her grandchildren for the social and public responsibilities of their future court life, employing schoolteachers and musicians for their education.
Countess Alice's last major literary commission, in the 1630s, was to the young John Milton's Arcades, a masque written in her honour near Harefield in 1632. When it was staged and directed, Alice played a part in the pastoral habit and was joined by her grandchildren on stage. Milton's characterisation of Alice complimented her greatly, intending to distinguish her qualities as being far superior to her contemporary noblewomen (an extract of this masque has been placed below).
'Mark what radiant state she spreads,
In circle round her shining throne.
Sitting like a goddess bright, in the centre of her light.
Such a rural queen, all Arcadia hath nor seen'.
This complimentary verse is reminiscent of Queen Elizabeth I's representation in poetry during the latter end of her reign; immortalising her as a celestial being, bringing prosperity and peace to her nation. Alice is a 'rural' queen away from court; glorious and the centre of her kingdom Arcadia, which could be symbolic of her household at Harefield. Regal imagery is utilised by transforming the now elderly countess into a vibrant woman. Similarly, after her death, she was referred to as the 'queen in the Isle of Man'. This sense of glory was reflected in Alice's fantastic tomb in Harefield church. It was designed upon her own personal reflection of herself; with the effigy depicting her as a young woman with long flowing hair, rather than the elderly widow which she was at the time of her death. This tomb immortalised the artistic and cultured life that Alice led. She died in January of 1637 at Harefield and was buried at the church of St Mary the Virgin in the same village. Overall, Alice led an interesting, but somewhat challenging existence. While glamorously attending the Elizabethan and Jacobean courts, she experienced difficulty following her first husband's death as a result of her brother in law's greed and reluctance to financially assist her. Regardless, she was a patron of musicians, poets and remained a lively figure up until her later years as a result of her extensive family and court connections.
By Alexander Taylor
Pictures: Engraving of Alice Spencer by an unknown artist, NPG; portrait of Ferdinando Stanley by an unknown artist.
Sources accessed
Carlton, Katherine. "The widowhood of Alice Spencer, countess dowager of Derby, 1594-1636" (1999). Transactions of the Lancashire and Cheshire Historical Society, 149, 1-18.
Knafla, A. Louis, "Spencer [married names Stanley, Egerton]. Alice, countess of Derby (1559-1637)", Oxford Dictionary of National Biography, (2004).
Rollett, M. John, William Stanley as Shakespeare: Evidence of Authorship by the Sixth Earl of Derby, (McFarland & Co publishing, 2015).