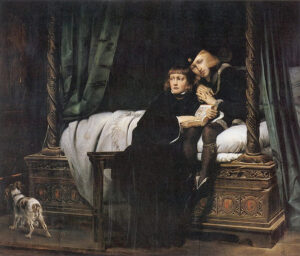 On this day in Tudor history, 2nd February 1508, in the reign of King Henry VII, physician and Provost of King's College, Cambridge, John Argentine died at King's College.
He was about sixty-five years of age at his death. He was laid to rest in the Chantry Chapel at the college.
Cambridgeshire man Argentine was educated at Eton and King's College, Cambridge, studying theology, before spending three years studying medicine in Italy. On his return to England, he began practising medicine at the royal court.
According to Domenico Mancini, Argentine attended King Edward V and his brother, Richard of Shrewsbury, Duke of York, commonly known as the Princes in the Tower, and was said to be the last person to attend them before their disappearance. In Henry VII's reign, he was physician to the king's eldest son, Arthur Tudor, Prince of Wales, who sadly died in 1502.
Argentine was appointed as provost of King's College in 1501. In his will, he left 100 marks to King's, as well as a silver basin and ewer.
Argentine wrote two works, a poem in Latin and a medical commonplace book.
Image: The Princes in the Tower, King Edward V and the Duke of York (Richard) in the Tower of London by Paul Delaroche.