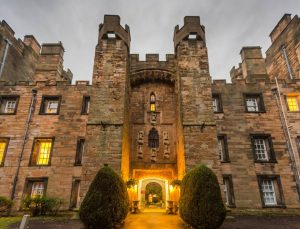 I've just received this news regarding Lumley Castle, a 14th-century castle, now hotel, in County Durham, in the North of England. It really does look like a lovely place to go and stay in and the escape room sounds fun!
Here's the press release:
The legend surrounding a 630-year-old North East castle is to be brought vividly to life, giving amateur detectives the chance to solve a mystery in a UK first.
Lumley Castle Hotel, near Chester-le-Street, County Durham, has announced plans to create the country's first escape room within a historic property. The 73-room castle has joined forces with the highly acclaimed Escape Rooms Durham, which already runs two games within the city centre, Mr Borrowdale's Study and Lab Heist. And the organisation has created a unique new escape room challenge, based on the tragic story of Lily of Lumley, who, in the 14th century, was reputedly thrown down a well by Catholic priests for renouncing her faith. Lily is said to haunt the castle and there have been many supposed sightings of her ghost over the years – but now everyone who visits Lumley will get the opportunity to come face to face with the tragic heroine.
The escape room is being created in the castle's former beer cellar and is scheduled to launch on Valentine's Day, 14 February 2019.
Sam Lupton of Escape Rooms Durham said this will be a unique experience. "We have worked tirelessly over the past few months to create a game that is not only entertaining but is also completely immersive in its game play and the only one of its kind in the UK," said Sam. "We can't wait to share the experience of Lily of Lumley with visitors to the castle and we're delighted to be working in partnership with this fantastic hotel."
Although the story centres around the legend of Lily of Lumley, the experience is set to be family friendly and suitable for anyone over the age of ten. The Escape Room experience will be open to residents and non-residents alike with the option to add an overnight stay, afternoon tea package, or dinner in the hotel's highly acclaimed Black Knight restaurant at the time of booking. Lumley Castle Sales manager Lauren Colledge believes the attraction will be a fantastic asset to the hotel and give visitors another reason to visit. "This is a very exciting venture for us and we are investing heavily in it," she said. "It will mean a visit to Lumley will be even more special and we know it will appeal to a wide range of audiences, from corporate guests who want a challenging team building activity to leisure visitors who want to have some fun."
For more information or to make a booking visit http://www.escapedurham.co.uk/.