Thank you to Tudor Life regular contributor, Rioghnach, for asking this question:
"Claire's most recent chat on the subject of smallpox during the Tudor era has piqued my curiosity.
Elizabeth's portraits always make her skin look flawless. Obviously, this was not the case, but I can understand why her painters used tact and diplomacy in their works. Does anyone actually know for certain, what Elizabeth actually looked like under the layers of white lead etc?"
Although there are many portraits of Elizabeth I painted in her lifetime, it is impossible to use them as evidence of what the queen really looked like, particularly towards the end of her reign, because portraits of a monarch at this time were not meant to be accurate representations, they were propaganda.
Elizabeth was twenty-five when she came to the throne in November 1558 and she ruled until March 1603, when she was sixty-nine, but let's have a look at some of the portraits painted late in her reign, when she covered her greying and thinning hair with wigs and used layers of ceruse to make her "mask of youth". You can click on the portraits to see them properly.
And here is an eye-witness description of the queen in 1598:
"Next came the Queen, in the Sixty-fifth year of her Age, as we were told, very Majestic; her Face oblong, fair, but wrinkled; her Eyes small, yet black and pleasant; her Nose a little hooked; her Lips narrow, and her Teeth black (a Defect the English seem subject to, from their too great Use of Sugar); she had in her Ears two Pearls, with very rich Drops; she wore false Hair, and that red; upon her Head she had a small Crown, reported to be of some of the Gold of the celebrated Lunebourg Table; Her Bosom was uncovered, as all the English Ladies have it, till they marry; and she had on a Necklace of exceeding fine Jewels; her Hands were small, her Fingers long and her Stature neither tall nor low; her Air was stately, her manner of speaking mild and obliging [...]"
These portraits just don't tally with that description, do they?
We do, however, have a more realistic portrait of Elizabeth I. This portrait is owned by the Elizabethan Gardens in North Carolina, USA. It has been authenticated and dates to the early to mid-1590s. It is thought to have come from the studio of Marcus Gheeraerts the Younger, the artist who painted the Ditchley Portrait that you can see in the gallery above and which dates to the same period - very different!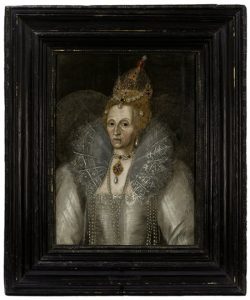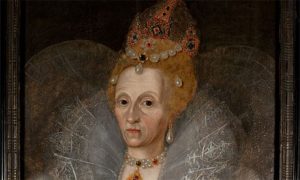 Although Elizabeth I is still in all her finery, and wearing a wig, her skin is lined with wrinkles. Jonathan Jones, in an article on this portrait, writes:
"In the new, unvarnished portrait of Elizabeth I, wrinkles-and-all, the artist has stepped over a fine line. All the accoutrements of her glamour are there, but the painter has gone just that bit nearer to the reality behind the myth than was required to give a portrait plausibility. The result is a cruel unmasking of power. Could this have been a deliberately subversive image, hidden away in the house of some rebellious lord? Here is the fairy queen, her spell broken."
It makes you wonder who commissioned it!
Hannah Betts, in her article on this portrait for The Telegraph, writes:
"A 1596 order to the Privy Council commanded public officers "to aid the queen's Sergeant Painter in seeking out unseemly portraits which were to her 'great offence' and therefore to be defaced and no more portraits to be produced except as approved by [the] Sergeant Painter". For a woman whose youthful, virginal, thus potentially ever fecund body had been the chief metaphor of her reign, what could be more offensive than the suggestion that it – and her rule – might be approaching their demise?"
Elizabeth knew the importance of propaganda, the importance of her subjects seeing her as still capable of ruling and not at death's door.
Only Elizabeth I's most trusted ladies would have known what Elizabeth really looked like under her finery and the layers of thick make-up, but in September 1599 one courtier, a man who had been a favourite of the queen's for many years, saw the queen without her wig and make-up:
"His lordship lighted at the court gate about ten in the morning, and made all haste up to the presence and so to the privy-chamber, and did not stop till he came to the queen's bed-chamber, where he found her majesty newly up, and the hair about her face."
Historian Tracy Borman writes of this event:
"When the impetuous Earl of Essex famously burst into her chamber before Elizabeth was dressed or made up, he was so shocked by her haggard appearance that he secretly joked about her "crooked carcass" to his friends. Elizabeth found out and it was said that she cut off his head in revenge – although his rebellion against her [in February 1601] probably had something to do with it."
However, Devereux did not make this comment in 1599 or to his friends, he actually said it to Elizabeth's face in 1598, the time when she slapped him for his disrespectful behaviour and he drew his sword. Edward Hyde recorded that Devereux rebuked the queen, saying that "she was as crooked in her disposition as in her carcass". The comment was not made after Devereux had seen the queen before she was ready in 1599.
Elizabeth was in her sixties in the mid to late 1590s, a good age for a Tudor person, and I suspect the eye-witness account from 1598 is accurate. Her red hair had greyed and was hidden by a wig, her face had wrinkled and her teeth had rotted, but she was still "majestic" and the eyes she had inherited from her mother, Anne Boleyn, were "black and pleasant". She was still very much a queen.
Notes and Sources
Paul Hentzer's Journey into England in 1598, quoted in Side Lights on English History: Extracts from Letters, Papers, and Diaries of the Past Three Centuries edited by Ernest F. Henderson, University Press of the Pacific, 2004.
"Elizabeth I's portrait brings us face to face with the ravages of age", Jonathan Jones, The Guardian, Wednesday 13 February 2013 - https://www.theguardian.com/artanddesign/jonathanjonesblog/2013/feb/13/elizabeth-first-portrait-face-age-unhappiness
"7 things you (probably) didn't know about Elizabeth I", Tracy Borman, History Extra, 2015, http://www.historyextra.com/article/facts-elizabethi
Elizabethan Gardens portrait, Photographed by Ray Matthews, Courtesy of The Elizabethan Gardens.
Edward Hyde is quoted in Hammer, Paul E. J.. "Devereux, Robert, second earl of Essex (1565–1601)." Paul E. J. Hammer In Oxford Dictionary of National Biography, edited by H. C. G. Matthew and Brian Harrison. Oxford: OUP, 2004. Online ed., edited by David Cannadine, October 2008. Hammer cites E. Hyde, 'The difference and disparity between the estate and the conditions of George duke of Buckingham and Robert earl of Essex', Reliquiae Wottonianae, or, A collection of lives, letters [and] poems, 4th edn (1685), p. 192.