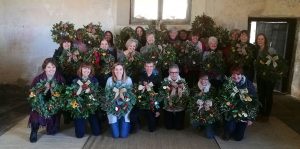 If you can get to Acton Court in Gloucestershire, UK, why not enjoy one of their Christmas workshops?
From Acton Court:
Step back in time with Organic Blooms at Acton Court, create your own beautiful, natural Christmas wreath, garland or table decoration at one of our workshops.
Organic blooms have a range of half day workshops, and one full day, which includes a simple home cooked lunch.
All materials and refreshments are provided.
These popular workshops are filling up fast, book through Organic blooms by following the link below
Friday 6 December
10:00am to 12:30pm
Christmas wreath workshop £50
Friday 6 December
1:30pm to 4pm
Christmas wreath workshop £50
Saturday 7 December
1:30pm to 4pm
Willow door wreath £50
Sunday 8 December
10:00am to 12:30pm
Christmas foliage wreath decorated with natural materialsl £50
Sunday 8 December
1:30pm to 4pm
Christmas foliage wreath decorated traditionally £50
Saturday 14 December
10:00am to 4pm
Full day Christmas wreath and table decoration workshop with lunch included £95
Sunday 15 December
10:00am to 12:30pm
Table decoration workshop £50
Sunday 15 December
1:30pm to 4pm
A Tudor Christmas £50
Book your place at https://www.organicblooms.co.uk/product/christmas/christmas-workshops-at-acton-court/