This artists in the spotlight, we are highlighting Siouxsie from England. She is 30 years old and makes beautiful intricate paintings. Recently she finished her first Tudor painting of Anne Boleyn. We asked her about this piece of art and her interest in and family connection to the Tudors.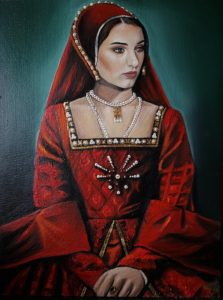 Portrait of Anne Boleyn
When did you start making art?
"I started making art from a really young age. I went on to study Fine Art at college and then on to study Technical Arts and Special Effects at university. I mostly did realism charcoal portraits but since the pandemic and the national lockdown I've wanted to push myself and try things I haven't before. This portrait of Anne Boleyn is my first ever portrait in oil paint."
You made an Anne Boleyn painting! Are you interested in the Tudors? If so where does that come from and when did that start?
"History always fascinated me as a child, especially the Tudors. It wasn't until my mother researched our family tree that I realised our family's history is connected to The Tudors.  I'm a direct descendant of the royal lineage and of the plantagenets. King Henry II is my 25th grandfather."
What inspired you to make the painting of Anne Boleyn?
"I've always felt a connection to Anne Boleyn, I felt history hasn't always been kind to her, there's hardly any original portraits of her left. I have enjoyed various portrayals of her in film and TV and always felt she was misunderstood. I love that era of art and knew I wanted to recreate something like the royal paintings I've seen. Anne was the perfect choice!"
Do you have a favourite Tudor monarch? Who and why?
"My favourite Tudor monarch is Henry VIII, purely because his reign shaped England and the lives we live in so many ways that people may not realise. He changed the course of history."

What is your favourite painting you have made?
"The Anne Boleyn portrait is currently my favourite as it's my first oil portrait. It's something I've had in my head and what I've wanted to do for many years. I've normally done commission portrait drawings for other people so this is the first one I did for me."
How long did it take you to make the Anne Boleyn painting?
"I started this painting during the first national lockdown. It's taken me a while as I've had commissions inbetween and with oil paint each layer must dry before the next layer is applied. With my drawings they are done very quickly so it's nice to be "forced" to walk away for a little while whilst layers dry and come back with fresh eyes and perspective."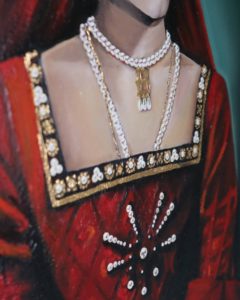 Detail of the portrait
How do you make your artworks? What is the process?
"With this painting I started with the idea and concept (I had a basic idea for many years). I wanted her to wear red to represent the rumours that she was a "scarlet woman" and was promiscuous  which is what led to her execution. I researched women's clothing of the era and upon reading her description I knew my best friend fit the description, so I used her face as a reference. I then made a digital reference combining these things together. I start with a basic painting and with each layer I refine and add details. Towards some of the final layers I applied gold leaf to her jewellery and clothing which really makes her look royal."
Are you currently working on any Tudor paintings or want to make one in the future of other Tudors? If so, who?
"I haven't started any yet, I have some ideas. I would love to make a series of the wives and maybe Henry VIII himself. I love the process of researching and learning. A collection of all the women who we probably only know half the story about would be a wonderful thing to do."
Want to see more or Siouxsie's gorgeous art? You can follow her on Instagram:
@wildthings_art