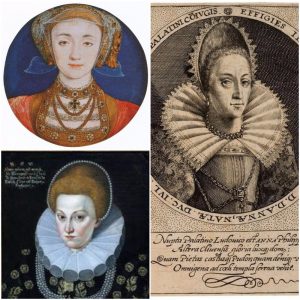 For Part II of the Annes of Cleves, we'll learn a little bit more about Henry VIII's fourth wife, Anne of Cleves; her niece, Anna of Cleves; and Anna, Duchess of Cleves. Throughout the article, I will address them as Anne, Anna of Cleves, and the Duchess, so as to help in understanding who is who.
Anne of Cleves, born in 1515 in Germanic territories of the Holy Roman Empire, married Henry VIII of England in 1540. Her marriage to the King lasted only about six months before he divorced her. Due to Anne's congeniality, Henry settled a good income and several properties on Anne. She remained in England until her death in 1557, where she enjoyed a relationship with Mary I of England, who was only six months Anne's junior, and with Elizabeth I of England. Elizabeth and Anne rode together in the chariot just after Mary I's during Mary's triumphant ride through London as the new queen. Sadly, Anne passed away just over a year before her other stepdaughter, Elizabeth I, become queen.
Anna of Cleves, born in 1552, was the daughter of Wilhelm V of Cleves. Wilhelm V was Anne's younger brother. As Anne's niece, Anna of Cleves was raised in the royal court at Düβeldorf by her other aunt, Amelia. Amelia saw to it that Anna of Cleves was brought up in the Lutheran faith. Anna of Cleves would go on to marry the Count Palatine, Philip Louis of Neuburg, in 1574. She gave birth to eight children, four of whom not only survived to adulthood, but were married. Anna died in October 1632 at the age of 80.
Anna, Duchess of Prussia, was born in 1576 to Albert Frederick of Prussia and Marie Eleonore of Cleves, making the Duchess of Prussia Anne of Cleves' great-niece. The Duchess was the expected heir to her father, and as such, would go on to make an important dynastic marriage at the age of 22. More revered for her intellect than her looks, the Duchess' marriage brought together the territories of Prussia (and Jülich-Cleve-Berg) and Brandenburg. At the time, Prussia was a ducal territory under the crown of Poland. She went on to have eight children, four of which survived to adulthood. The Duchess died at the age of 49 in 1625.
Author's commentary: This article was frustrating to write, in some ways. I was eager to research these Annes of Cleves and bring them to life for the reader, but it was difficult to find solid, reliable information about not just these two Annes, but all Annes of Cleves save for the fourth wife of Henry VIII of England. What a fine shame it is that most of what we know about these women is that they were born, became wives, then mothers, then died!
See the following articles for related information:
Heather R. Darsie lives in the United States with her family and three parrots. She works in the legal field, with a focus on children. She obtained a Bachelor of Arts degree in German Languages and Literature, then a Juris Doctorate in American jurisprudence, and studied abroad in Costa Rica and France. Heather has always loved history. She first became acquainted with Elizabeth I when she was in middle school and chose to write a book report about her. Since then, she has always held an interest in the Renaissance and its numerous enigmatic citizens, with particular focus on the history of England and Italy. She is currently working on a book on the heraldry of Tudor women and is also researching Anne of Cleves.
Sources & Suggested Reading
Picture - Top left: miniature of Anne of Cleves by Hans Holbein the Younger; bottom left: Duchess Anna of Prussia; right: Anna of Cleves, Countess Palatine of Neuburg, daughter of Wilhelm V of Cleves.