Many of the Tudor Society members will be at MadeGlobal's "An Evening with the Authors" event on 24 September in central London, and it would be so lovely to see you there. Names you'll recognise include:
Claire Ridgway
Melanie Taylor
Jane Moulder
Tim Ridgway
Derek Wilson
Kyra Kramer
Sarah Bryson
Sandra Vasoli
Beth von Staats
+ MANY MORE
There will also be a stand from the Mary Rose Museum at the event, including some artifacts from Henry VIII's flagship. You'll be able to ask their experts about the theories about the ship sinking, and actually see some items from the Tudor period.
You can find out about the event here: MEET THE TUDOR SOCIETY TEAM
If London is not possible for you (and, after all we are an international society!), in line with Tudor Society values, it is possible to join in from wherever you are in the world. MadeGlobal will be putting on a private live stream of the event so you can join in online from wherever you are. BUT YOU NEED TO BOOK A TICKET - IT IS A PRIVATE STREAM!
FIND OUT ABOUT LIVE STREAMING
We've just ordered a whole pile of fliers to give out at the event, as we're sure there will be people there who want to join us all at the Tudor Society. After all, there really isn't any better way to immerse yourself in Tudor History! Here is the flier we'll be giving out: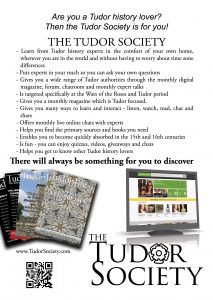 So, why not come along and meet our historians, and, if you can't physically come to London, why not join us on live streaming instead? You'll have a wonderful time enjoying seeing panel discussions with many excellent historians, live Tudor music from Jane Moulder and much, much more!
See you there on 24 September?