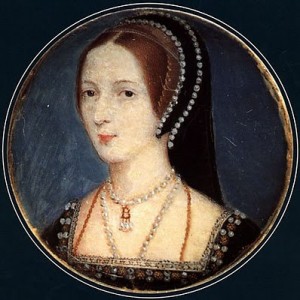 On 29th January 1536, the same day that Katherine of Aragon was laid to rest at Peterborough Abbey (nowadays known as Peterborough Cathedral), Anne Boleyn tragically miscarried. There has been a great deal of speculation surrounding Anne's final pregnancy and miscarriage. Some have suggested that the foetus was disfigured and malformed while others do not give any hint at anything wrong with the baby. Here is what Eustace Chapuys, ambassador to Charles V at the English Court, had to say about Anne's miscarriage:
"On the day of the interment the Concubine had an abortion which seemed to be a male child which she had not borne 3½ months, at which the King has shown great distress. The said concubine wished to lay the blame on the duke of Norfolk, whom she hates, saying he frightened her by bringing the news of the fall the King had six days before. But it is well known that is not the cause, for it was told her in a way that she should not be alarmed or attach much importance to it. Some think it was owing to her own incapacity to bear children, others to a fear that the King would treat her like the late Queen, especially considering the treatment shown to a lady of the Court, named Mistress Semel, to whom, as many say, he has lately made great presents." (L&P x. 282)
Keeping in mind that Chapuys was loyal to Katherine of Aragon, aunt of Charles V his master and no friend at all to Anne Boleyn, he does not make any mention of the foetus being deformed. He only states that the child was three and a half months of gestation and male.
Charles Wriothesley who chronicled the reign of the Tudors from 1485 to 1559 stated that:
"This yeare also, three daies before Candlemas, Queene Anne was
brought a bedd and delivered of a man chield, as it was said, afore
her lyme, for she said that she had reckoned herself at that tyme
but fiftene weekes gonne with chield ; it was said she tooke a
fright, for the King ranne that tjrme at the ring and had a fall
from his horse, but he had no hurt; and she tooke such a fright
withall that it caused her to fall in travaile," and so was delivered
afore her full tyme, which was a great discompfort to all this
realme."(Wriothesley 1894)
Once again there is no mention of any malformations or disfigurements of the foetus only that Anne Boleyn gave birth to a male child before it was due to be born and that it was approximately fifteen weeks in gestation.
Nicholas Sander, a Catholic writing almost fifty years later in the time of Anne Boleyn's daughter Elizabeth I wrote that:
"The time had now come when Anne was to be again a mother, but she brought forth only a shapeless mass of flesh."(Sander 1877).
Nicholas Sander is the only person to have written that the foetus that Anne Boleyn miscarried was malformed, in fact so much so that it was nothing but a shapeless mass of flesh. One must keep in mind that Sander was a Catholic and no friend of the Protestant Elizabeth I. In addition to this statement Sander also wrote that Anne Boleyn had six fingers, suffered from jaundice, had a projecting tooth under her upper lip and a large wen under her chin! With such blatant lies regarding Anne Boleyn's appearance it is clear that Sander wrote of a disfigurement of Anne's final miscarriage in an attempt to discredit her and in turn her daughter Elizabeth I.
Yet what exactly would the three and a half month old foetus have looked like and just how developed would it have been? I have a Bachelor of Early Childhood Education with Honours and I have been fortunate enough as part of my degree to study child development, including the development of the baby inside the womb.
According to Laura E. Berk, a well-known and highly respected professor a fetus at approximately three and a half months of age would have started to develop:
"organs, muscles, and nervous system start to become organized and connected. The brain signals, and in response, the fetus kicks, bends its arms, forms a fist, curls its toes, opens its mouth, and even sucks its thumb. The tiny lungs begin to expand and contract in an early rehearsal of breathing movements can be detected with ultrasound." (Berk p. 93, 2000).
Berk also goes on to state that at around twelve weeks: "External genitals are well formed, and the fetus's sex is evident."(Berk p. 103, 1999). She also states that the length of the child would have been approximately 3 to 4 inches (7 to 10 cm). It is clear from this that the sex of Anne Boleyn's child would have been known and that the limbs and overall body structure would have been formed, that is it would have been clear that the foetus was a small baby. While the head of the foetus may still somewhat be large compared to the rest of the body it would in no way have been abnormal.
There is no evidence to suggest that the foetus Anne Boleyn miscarried on January 29th 1536 was, as Sander put it, "a shapeless mass of flesh". The child would have appeared to the eye as a normal, although extremely small, baby, the sex organs clearly evident.
Losing a child, especially a male child and possible heir to the English throne must have been absolutely devastating for Anne Boleyn. To suggest that the child was in anyway deformed and misshapen surely would have added greatly to Anne's distress.
More articles on Anne Boleyn's pregnancies:
Sarah Bryson is the author of Mary Boleyn: In a Nutshell. She is a researcher, writer and educator who has a Bachelor of Early Childhood Education with Honours and currently works with children with disabilities. Sarah is passionate about Tudor history and has a deep interest in Mary Boleyn, Anne Boleyn, the reign of Henry VIII and the people of his court. Visiting England in 2009 furthered her passion and when she returned home she started a website, queentohistory.com, and Facebook page about Tudor history. Sarah lives in Australia, enjoys reading, writing, Tudor costume enactment and wishes to return to England one day.
Sources
'Henry VIII: February 1536, 6-10', in Letters and Papers, Foreign and Domestic, Henry VIII, Volume 10, January-June 1536, ed. James Gairdner (London, 1887), pp. 98-108 http://www.british-history.ac.uk/letters-papers-hen8/vol10/pp98-108 [accessed 14 March 2015].
Wriothesly, Charles. A Chronicle of England during the reigns of the Tudors, from A.D. 1485 to 1559.
Sander, Nicholas. Rise and Growth of the Anglican Schism (Burns and Oates, 1887)
Berk, E. Laura (1999) Infants, Children, and Adolescents, Allyn and Bacon, Boston.
Berk, E. Laura (2000), Child Development Fifth Edition, Allyn and Bacon, Boston.