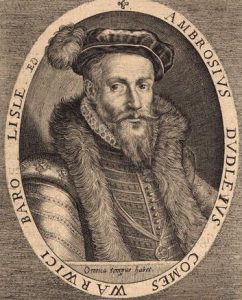 On this day in history, 21st February 1590, Ambrose Dudley, 3rd Earl of Warwick, Master of the Ordnance, Privy Councillor and fourth son of John Dudley, Duke of Northumberland, died at Bedford House on the Strand. He was laid to rest in the Beauchamp Chapel of the Collegiate Church of St Mary, Warwick.
Ambrose was born around 1530 and, like his father and brother, Robert Dudley, Earl of Leicester, was an influential Tudor man. He was attainted for treason after the short and unsuccessful reign of his sister-in-law, Lady Jane Grey, in July 1553, but was subsequently pardoned and released. When Elizabeth I came to the throne in November 1558, Ambrose was restored to royal favour and was appointed to the office of Master of the Ordnance. In 1561, he was created Baron Lisle and Earl of Warwick, and in 1562 Ambrose led a disastrous expedition to Le Havre, which had to be abandoned due to an outbreak of the plague. Ambrose came home with a nasty leg wound. In 1571, he was made Chief Butler of England and in 1573 he was appointed to Elizabeth I's Privy Council.
In early 1590, one of his legs, the one he had injured at Le Havre, had to be amputated due to gangrene. Ambrose did not recover and died on 21st February 1590.
He was married three times: Anne Whorwood, Elizabeth Tailboys and Anne Russell.
Here is a photo of Ambrose's tomb that I took back in 2012 - click on it to enlarge it: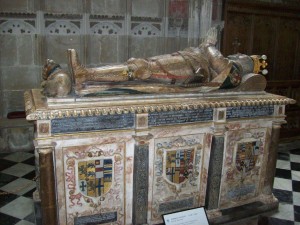 Extract from On This Day in Tudor History by Claire Ridgway.
Picture: Engraving of Ambrose Dudley by Willem de Passe.