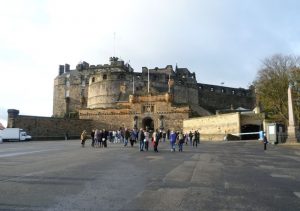 On 17th July 1537, Janet Douglas, Lady Glamis, was burned to death on the castle hill at Edinburgh after being found guilty of two counts of treason. She had been charged with plotting King James V of Scotland's death (by poison) and assisting and corresponding with her brothers, Sir George Douglas and Archibald Douglas, 6th Earl of Angus.
So who was Janet Douglas, and what led to her brutal death?
janet Douglas was the daughter of the Scottish nobleman, George Douglas, Master of Angus, and his wife, Elizabeth Drummond. Janet was born c. 1504 and her father died at the Battle of Flodden on 9th September 1513. Janet's siblings included Archibald Douglas, 6th Earl of Angus, who married Margaret Tudor, widow of James IV, and Sir George Douglas of Pittendriech. Janet married John Lyon, 6th Lord Glamis, when she was about sixteen years of age, in 1520. The couple had four children before Lyon died in 1528. Janet married her second husband, Archibald Campbell of Skipness, younger son of Archibald Campbell, 2nd Earl of Argyll by July 1532. The marriage was childless.
James V became King of Scotland on 9th September 1513, following his father's death at the Battle of Flodden; he was just one year old. His mother, Margaret Tudor, sister of King Henry VIII, married Archibald Douglas, Janet's brother, in August 1514, making Archibald the young king's stepfather. According to Janet Douglas's biographer, C. A. McGladdery, by 1528, the king had come to hate his stepfather, who had been acting as his guardian, and a proclamation was issued stating that Angus was not allowed to come within 7 miles of the king. This breakdown in the relationship between king and stepfather had a knock-on effect for the whole Douglas family and in late 1528 and early 1529, Janet was summoned before Parliament accused of treason for witchcraft and supporting her brothers. Janet was let off the hook at that time, being granted licence to go on a pilgrimage overseas. However, Janet was still in Scotland in the winter of 1529/1530 because she took legal action against John Lyon of Knockany, and by early 1532 she was being implicated in the death of her husband, Lord Glamis, who, some said, died of poisoning.
The case against Janet was dropped but in June 1537, her son, John Lyon, 7th Lord Glamis, was taken to Edinburgh Castle as a ward and on 17th July 1537 Janet was convicted of plotting to poison King James V and assisting and corresponding with her brothers. She was condemned to death and executed on the same day. On 18th July 1537, Janet's husband, Campbell, died after breaking his neck in an escape attempt from imprisonment in Edinburgh Castle. Janet's son, the 7th Lord Glamis, was found guilty of concealing his mother's plot to kill the king but his death sentence was commuted to imprisonment.
As C. A. McGladdery points out, it is difficult to see how Janet could have been in a position to poison the king when she does not seem to have attended court and "The real motive behind the king's pursuit of the case against Janet Douglas is far more likely to have been implicit in the second part of the charge, the assistance she had allegedly given to her brothers." However, her execution was "an unmistakable message not only to the Douglases but also to any other potential rebels".
Notes and Sources
Picture: Edinburgh Castle Esplanade, © Copyright kim traynor and licensed for reuse under creativecommons.org/licenses/by-sa/2.0
McGladdery, C. (2004, September 23). Douglas, Janet, Lady Glamis (c. 1504–1537), noblewoman. Oxford Dictionary of National Biography.