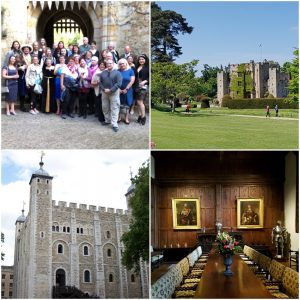 As you probably know, the Tudor Society now runs Tudor history tours in conjunction with British History Tours. This year, we ran the Anne Boleyn Experience Tour in May and are running the Discover the Tudors Tour in September. The Anne Boleyn Experience was a wonderful tour and I (Claire) can't wait for the September tour, I'm counting the days!
Anyway, we have just finalised the details for our 2019 tours and are giving you an advance preview of them and also the chance to book on them before they are released to the general public on Sunday. The Anne Boleyn Experience 2018 sold out in just a few days so do act quickly if you want to secure your place. The tours we are running are The Anne Boleyn Experience in May 2019 and The Executed Queens Tour in July 2019. I am so very excited about these - more opportunities to get my Tudor fix! We already have bookings for next year's tours from some of those who went on our May tour so people definitely enjoyed it, which is lovely to know.
Here are links to find out more information, to browse the full itineraries and to book your place. These links are only live until Sunday as they are advance booking links. You will be able to find the tours via the British History Tours homepage after that.
I do hope you can join me on one of our tours. It was wonderful to meet some Tudor Society members on The Anne Boleyn Experience.