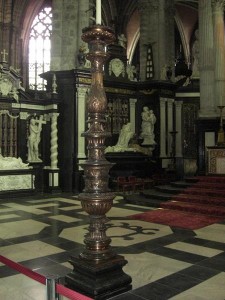 Cardinal Thomas Wolsey was patron to the Florentine scuptor Benedetto da Rovezzano (1474-1552) and commissioned him to make a lavish Renaissance style tomb for him. The project comprised a beautiful black marble sarcophagus and four bronze angels, each measuring around a metre in height, which are now known as Wolsey's Angels.
Following Wolsey's fall and death in 1530, Henry VIII took the sarcophagus and angels for himself and commissioned Benedetto to carry on with the tomb project. The additions to the tomb included four bronze candelabra which were nearly 3 metres in height. The tomb was not complete at Henry VIII's death and the King ended up being buried in a vault in St George's Chapel, Windsor Castle. The sarcophagus was later used to entomb Horatio Viscount Nelson in St Paul's Cathedral, London. Wolsey's Angels were lost for some time, but were then located and saved by the Victoria and Albert Museum, who launched a campaign to save them - see The Wolsey Angels Saved for the Nation. As for the candelabra, they can be found in Saint Bavo's Cathedral, Ghent, having been acquired by the Bishop of Ghent in the 17th century.
Thank you so much to Riezz Kienhuis-nagtegaal for sending me these photos he took of the candelabra and for allowing me to share them with you.