As it is the end of 2021, we will look back at all the months and highlight the most exciting event, release, article or video. But we will also look forward to next year and update you on all the new things coming. 
JANUARY 2021
At the start of the year Claire was featured on a podcast episode by HISTORY This Week. In 'Off With Her Head' Claire discusses how King Henry VIII moves heaven and earth to marry the woman he loves, but just a thousand days later he will have her executed. Why did he do it? And how is the story we always tell about Anne Boleyn all wrong?
If you missed it or want to listen to it again, click on one of these links:
Apple podcast link: https://podcasts.apple.com/us/podcast/off-with-her-head/id1493453604?i=1000504955336 
Spotify link: https://open.spotify.com/episode/62kHfiEwEAKlmhlfwJA04G?si=HA7n1823TO-b1GLQBc2lhw 
History Channel US page: https://www.history.com/history-this-week 
FEBRUARY 2021
Many of you enjoy the weekly Tudor crossword puzzles and word searches, so Claire decided to bundle over 50 old and new ones in a paperback book. It is packed with enough Tudor questions to keep any history buff happy. Whatever your level, this book will be a challenge for the mind, and is the perfect Tudor knowledge quiz book.
Haven't got it yet? The Tudor Puzzle Book is available from Amazon's international sites. You can find it on your country's Amazon site by using this link: http://getbook.at/tudorpuzzlebook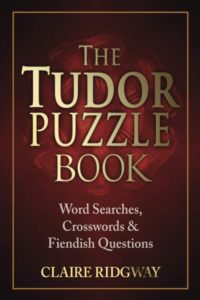 MARCH 2021
In March a great discovery was made as research found that the bust above Shakespeare's grave appears to be a good likeness of the playwright. The outcome of the research is special, because quite often, a portrait or bust is not a correct reflection of that person. 
If you want to read more click here: https://www.tudorsociety.com/research-discovers-definitive-likeness-of-shakespeare/ref/68/  
And if you want to admire the sculpture and see it for yourself, you can visit the Holy Trinity Church in Stratford-upon-Avon. 
APRIL 2021
Back in the spring, the Tudor Society launched something new: a members only private Facebook group. In this group, Claire does special live talks about Tudor topics and Q&A's and updates you about upcoming experts talks and live chats. Not only that, but you can also post on this page yourself, get to know each other and ask questions about your favourite period. If you are a member and would like to join the group, you can send a request by clicking on this link: https://www.facebook.com/groups/tudorsocietymembers/ 
Not a member of the Tudor Society yet? Try our 14 day free trial!
MAY 2021
At 22:30 on Friday the 21st of May, golden rosary beads owned by Mary, Queen of Scots were stolen in a £1 million burglary. The theft happened in West Sussex, England at Arundel Castle, which had only been open for less than a week after months of closure due to the pandemic. At this moment the whereabouts of the rosary are still unknown. 
JUNE 2021
Mid 2021 Anne Boleyn the series dropped. The show focuses on the final five months of the queen's life and is a fresh take on the well known story. We had the pleasure of speaking with director Lynsey Miller and writer Eve Hedderwick Turner about what the show means to them and why telling Anne's story in a different way is important. Did you miss the article? Click here to see behind the scenes images and read all about the psychological thriller. 
JULY 2021
It is the year 1545 when the Mary Rose sank in the Solent on the 19th of July. Now, 476 years later, visitors of the Portsmouth Historic Dockyard can relive the final breathtaking moments onboard King Henry VIII's favourite ship. 'Experience 1545 - When their world ended' opened to the public on Monday the 26th of July. 
For more information, click on this link: https://www.tudorsociety.com/mary-roses-1545-when-their-world-ended/ref/68/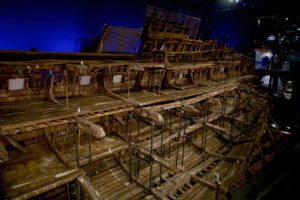 AUGUST 2021
"Travel back to the 77 years of Boleyn ownership. Tour each room as it was when Anne Boleyn retreated from court to escape the advances of Henry VIII. See Hever Castle come to life with room reconstructions and read the story of the Boleyns." 
'The Boleyns of Hever Castle' by Dr Owen Emmerson and Claire Ridgway was launched on the 1st of August. If you haven't gotten your hands on it yet, order here: https://www.amazon.nl/dp/B097TTYQF1?geniuslink=true 
SEPTEMBER 2021
New this year: Lil's Book Reviews. In September Lil's Vintage World reviewed this wonderful book by Jean Plaidy, called 'Uneasy Lies the Head'. The story is set in the aftermath of the Wars of the Roses. Want to find out what Lil's thoughts about the book are? Watch it here! 
OCTOBER 2021
As a celebration of one of England's most famous monarchs, Henry VIII, The Royal Mint and Historic Royal Palaces unveiled a new range of collectable coins in October. The ten royal beasts, chosen by Henry himself, will be included in the collection, starting with the Seymour Panther. It was given to Jane Seymour, the king's third wife, as a symbol of a peaceful and loving union between the king and consort. 
NOVEMBER 2021
November was the month in which a remarkable Tudor discovery was made. Antique dealer Paul Fitzsimmons purchased a wooden bird at an auction for £75. He later found out that the original owner of the bird was none other than Queen Anne Boleyn. The 16th century falcon is believed to be worth £200.000 and in the future you might be able to spot it at Hampton Court Palace. 
Dit bericht op Instagram bekijken

 
DECEMBER 2021
Some weeks ago Claire received an email with the exciting news that she has been elected as a Fellow of the Royal Historical Society in recognition of her "contribution to historical scholarship". The Society does wonderful work in supporting historians and promoting historical scholarship. We are very happy for Claire and congratulate her on this recognition. 
UPCOMING 
As we are reaching the end of this year, we are taking a look at what we Tudor lovers can expect from 2022. Here are three big things scheduled for the upcoming year: 
From the 27th till the 30th of January, the annual Katherine of Aragon Festival will be held to mark the anniversary of Henry VIII's first wife's burial. Find out more about all the activities in Peterborough Cathedral and how you can participate. 

The award-winning musical 'SIX' will return to Blackpool in 2022 from Tuesday 30 August till Saturday 3 September as part of a major UK Tour.

"From Tudor Queens to Pop Princesses, the six wives of Henry VIII take to the mic to tell their tales, remixing five hundred years of historical heartbreak into a 80-minute celebration of 21st century girl power."

A new royal Starz series will likely be dropped in 2022. The Serpent Queen is a show based on the life of Catherine de Medici with actress Samantha Morton playing the Queen. The show uses Leonie Frieda's book 'Catherine de Medici: Renaissance Queen of France' as the source material. 
For more updates during the year, keep your eyes out for our monthly blogs. For now we would like to say thank you for sticking with us throughout 2021! We wish you all a very happy new year and hope that 2022 will be a wonderful year filled with many magazines, articles and videos for you to enjoy.