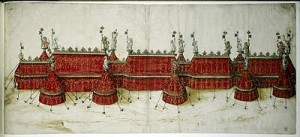 On this day in history, 7th June 1520, the famous Field of Cloth of Gold meeting began.
The meeting was between King Henry VIII of England and King Francis I of France and its aim was to solidify the Treaty of London. It took place between the English stronghold of Guînes and the French town of Ardres, on a piece of land referred to as the Field of Cloth of Gold, and ran from 7th June 1520 until 24th June 1520.
Click here to read more about this lavish and historic event.
You can also read primary source accounts of the event on our Field of Cloth of Gold Primary Sources page.