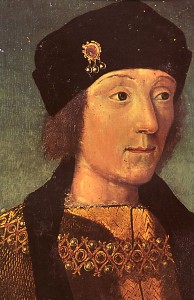 On this day in history, Sunday 7th August 1485, Henry Tudor (the future Henry VII), son of Lady Margaret Beaufort and the late Edmund Tudor, Earl of Richmond, "came unto Wales", landing at Mill Bay, Milford Haven, Wales. Chronicler Robert Fabyan recorded that on disembarking at Mill Bay, Henry "kneeled down upon the earth, and with meek countenance and pure devotion began this psalm: 'Judica me Deus, et discerne causam' ['Judge me, O God, and favour my cause']." He then "kissed the ground meekly and reverently, made the sign of a cross upon him" and then "he commanded such as were about him boldly in the name of God and Saint George to set forward."
Henry was returning from exile in Brittany to claim the throne of England from Richard III. The two men would, of course, meet at the Battle of Bosworth on 22nd August 1485 and the rest, as they say, is history.
Historian Nathen Amin has given two excellent expert talks for the Tudor Society on Henry VII and here are links to them:
Henry Tudor - This looks at Henry's background, early life, exile and his return. Nathen leaves us with Henry's victory at Bosworth.
Bosworth to Coronation - Nathen's second talk looks at the early days of Henry VII's reign.
You can also find out more about Henry VII in our Henry VII e-book - click here, in the documentary "Winter King" - click here, and in a Claire Chats video talk I did on "Henry VII - Usurper?".