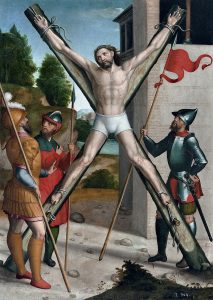 30th November was and is the feast of St Andrew the Apostle, who is also the patron saint of Scotland. Andrew was the older brother of the Apostle Peter and the two of them were fishing when Jesus approached them and said that he would make them "fishers of men".
Following Christ's crucifixion, Andrew travelled around preaching the Good News (some sources say as far as Kiev and Veliky Novgorod in Russia) before he was crucified on an X-shaped cross in Patras, Greece. Andrew is the patron saint of fishermen and singers, as well as Scotland, Ukraine, Romania, Russia and Patras. The saltire, or St Andrew's Cross, is used on the flag of Scotland.
In Mary I's reign, 30th November became a day to celebrate the reconciliation of England and the papacy due to it being the anniversary of that reconciliation in 1554. On that day in 1554, Cardinal Reginald Pole, papal legate, announced to Parliament and the King and Queen:
"And we, by the apostolike authoritie given unto us by the most holie lord pope Julius the third […] do absolve and deliver you, and every of you, with the whole realm, and the dominions thereof, from all heresie and schism, and from all and every judgements, censures and pain for that cause incurred. And also wee do restore you againe to the unity of our mother the holie church [...]"
It was decreed that on 30th November every year "a solemn procession shall be held, in which not only the clergy of every place, but also the faithful members of Christ of the secular order, shall gather and renew the memory of so wonderful a blessing received from God... and that on the same day, in the church from which the procession shall set out, during the solemn rites of the mass, a sermon shall be preached to the people in which the reason for this solemnity shall be explained."
Happy St Andrew's Day to all those celebrating it today.
Picture: Crucifixion of St. Andrew, by Juan Correa de Vivar.