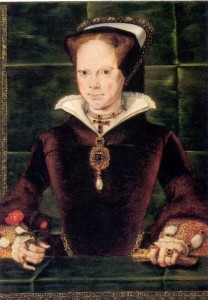 Mary I became queen in 1553 and although the English people had been happy for her to become queen, some noblemen became worried about her plans to marry Philip II of Spain and the religious changes her reign was bringing. A group of men including Thomas Wyatt the Younger, Henry Grey (Duke of Suffolk and father of Lady Jane Grey), Sir Peter Carew, Sir Edward Rogers, Sir Edward Warner, Sir William Pickering, Sir Nicholas Throckmorton, Sir James Croft, Sir George Harper, Nicholas Arnold, William Thomas and William Winter decided that a military coup might be the only way to prevent Mary's marriage and planned a series of uprisings with the aim of deposing Mary I and replacing her with her half-sister Elizabeth, who would marry Edward Courtenay, Earl of Devon - see Wyatt's Rebellion for more information on this.
By the end of December 1553 the privy council heard that trouble was brewing and Edward Courtenay spilled the beans to Stephen Gardiner, Bishop of Winchester, on the 21st January. The rebels were forced into action earlier than planned and while Carew spread dissent in Devon, Wyatt called a meeting at Allington on the 22nd January 1554 to organise the Kent uprising. Three days later, on the 25th January, Wyatt "raised his standard in Maidstone and his supporters made simultaneous proclamations in Rochester, Tonbridge, Malling, and Milton".1
It was unclear to Mary and her council whether Elizabeth was involved in any way so Mary wrote to her half-sister at Ashridge, summoning her to court:
"Right dear and entirely beloved sister, we greet you well. And whereas, certain ill disposed persons, minding more the satisfaction of their malicious minds, than their duty and allegiance towards us, have of late, spread divers untrue rumours; and by that means, and other devilish practices, do travail to induce our good and loving subjects, to an unnatural rebellion against God and us, and the common tranquility of our realm. We, tendering the surety of your person, which might chance to come to some peril if any sudden tumult should arise, either where you now be, or about Donnington, (whither we understand you are bound shortly to remove,) do therefore think expedient, you should put yourself in good readiness, with all convenient speed to make your repair hither to us, which we pray you will not fail to do, assuring you that you will be most heartily welcome to us. Of your mind herein, we pray you return answer by this messenger. And thus we pray God to have you in his holy keeping. Given under our signet, at our manor of St. James, the 26th day of January, the 1st year of our reign.
Your loving sister,
Mary the Queen"2
Historian Linda Porter writes of how Sir James Croft, one of the conspirators, had advised Elizabeth to move to her house at Donnington, Berkshire, out of harm's way and it is clear from Mary's letter that she knew about these plans. According to the Emperor's ambassadors, "The Lady Elizabeth excused herself from obeying the Queen's summons because she was ill, and begged the Queen to send her own doctor to see whether it was feigned or no." Mary sent her physicians to Ashridge and it was confirmed that Elizabeth was indeed ill. The following letter is not, as Linda Porter points out, Elizabeth's refusal to come to court as a response to Mary's letter, but is a French translation of an earlier letter to Mary found in the possession of a French spy carrying the dispatches of Antoine de Noailles, the French ambassador:3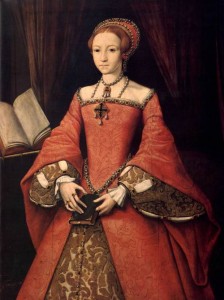 "Although by neglect of my duty, most noble Queen, I might incur blame for not having sent your Highness any news of my doings since I left your Court, yet I trust that your Grace, of your noble nature and inclination, will excuse me and attribute this shortcoming to its true causes. I have been troubled, since my arrival at my house, with such a cold and headache that I have never felt their like, and especially during the last three weeks I have had no respite because of the pain in my head and also in my arms. I have several times had occasion to offer your Highness my humble thanks for having sent to inquire after my health and for the plate that you gave me, but I now have a still more pressing call to do so, for you have been pleased not only to write me a letter with your own hand, which I know is tedious to you, but also to tell me of the conclusion of your marriage and of the articles to accompany it. This is a deep and weighty matter, but I have no doubt that it will redound to the glory of God, the repose of your Majesty and the safety and preservation of your kingdoms. There is one thing that ought to be considered even before these three points and without which naught can prosper: quia frusta enim nititur decretum hominum contra voluntatem divinam; but as you, Madam, are sure as to that, I doubt not that your will shall be made the instrument of His, so that the issues may be good. For a house built on sound foundations can only stand firm, whereas one built on the sand may soon be wrecked by light winds and sudden tempests. And as I know of no one more bound by duty and inclination to wish your Highness all prosperity, than myself, so no one shall be found, though comparisons be odious, more ready to pray God for you or more desirous of your greatness.
And so, Madam, fearing to importune your Majesty, I will consign you to the Creator's keeping and make an end to this letter."4
As I mention in my article on the rebellion, Mary I rallied her troops against the rebels with a rousing speech given at Guildhall. Mary successfully squashed the rebellion and the rebel leader, Thomas Wyatt the Younger, was found guilty of treason and executed on the 11th April 1554.
Elizabeth denied any prior knowledge of the rebellion5 and the plot to put her on the throne, but she was taken to the Tower on the 18th March and imprisoned while Mary's council tried to implicate her. After Wyatt refused to implicate her and no evidence was found against her, Elizabeth was released on 19th May 1554. Lady Jane Grey, whose father had been involved in the rebellion, was not so lucky. Jane and her husband Guildford Dudley were executed on the 12th February 1554. Henry Grey, Duke of Suffolk, was executed on the 23rd February 1554.
Notes and Sources
Archer, Ian W. 'Wyatt, Sir Thomas (b. in or before 1521, d. 1554)', Oxford Dictionary of National Biography, Oxford University Press, 2004.
Strickland, Agnes, and Strickland, Elizabeth (1842) Lives of the queens of England, from the Norman conquest..., Volume V, Henry Colburn, London, p. 362. Also in Titi Livii Foro-Juliensis Vita Henrici Quinti, regis Angliæ; Accedit, sylloge epistolarum, a variis Angliæ principibus scriptarum (Sylloge Epistolarum) by Thomas Hearne, p. 154-155.
Porter, Linda (2007) Mary Tudor: The First Queen, Piatkus, p. 297.
Calendar of State Papers, Spain, Volume 12, 1554, p. 50, The Lady Elizabeth to Mary I.
Doran, Susan (2015) Elizabeth I and her Circle, Oxford University Press, p. 33.