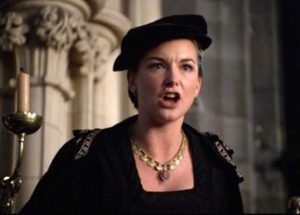 On this day in history, 24th May 1546, letters were sent from Privy Council to Anne Askew (future Protestant martyr) and her estranged husband Thomas Kyme, ordering them to appear in front of the council:
"Two of the Yeomen of the Chamber were sent to apprehende Sir Robert Wesdom, prest, and had with them letters to oone Kyme and his wief for their apparance within x dayes after receipt."
"Kyme" was Thomas Kyme, Anne Askew's husband.
You can read more about Anne Askew in Roland Hui's excellent article - click here.
Today is also the anniversary of the birth of John Jewel, Bishop of Salisbury and Apologist of the Church of England, and you can click here to read more about him.
Notes and Sources
Picture: Emma Stansfield as Anne Askew in "The Tudors" series.