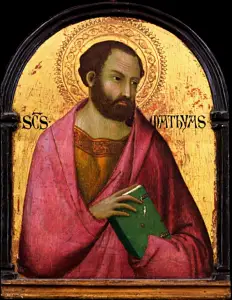 In the medieval and Tudor era the feast of St Matthias the Apostle was celebrated on 24th February, whereas today it is celebrated on 14th May. I have read also that the feast was celebrated on 25th February in Leap Years so perhaps I ought to be actually posting this tomorrow!
Matthias was not one of the original twelve apostles, he was chosen after the Ascension of Jesus by the remaining eleven apostles to replace Judas Iscariot. Why was it important to replace Judas? The Catholic Online website explains: "Twelve was a very important number to the Chosen People: twelve was the number of the twelve tribes of Israel. If the new Israel was to come from the disciples of Jesus, a twelfth apostle was needed." The Book of Acts explains what happened:
"Then returned they unto Jerusalem from the mount called Olivet, which is from Jerusalem a sabbath day's journey.

And when they were come in, they went up into an upper room, where abode both Peter, and James, and John, and Andrew, Philip, and Thomas, Bartholomew, and Matthew, James the son of Alphaeus, and Simon Zelotes, and Judas the brother of James.

These all continued with one accord in prayer and supplication, with the women, and Mary the mother of Jesus, and with his brethren.

And in those days Peter stood up in the midst of the disciples, and said, (the number of names together were about an hundred and twenty,)

Men and brethren, this scripture must needs have been fulfilled, which the Holy Ghost by the mouth of David spake before concerning Judas, which was guide to them that took Jesus.

For he was numbered with us, and had obtained part of this ministry [...]
Wherefore of these men which have companied with us all the time that the Lord Jesus went in and out among us,

Beginning from the baptism of John, unto that same day that he was taken up from us, must one be ordained to be a witness with us of his resurrection.

And they appointed two, Joseph called Barsabas, who was surnamed Justus, and Matthias.

And they prayed, and said, Thou, Lord, which knowest the hearts of all men, shew whether of these two thou hast chosen,

That he may take part of this ministry and apostleship, from which Judas by transgression fell, that he might go to his own place.

And they gave forth their lots; and the lot fell upon Matthias; and he was numbered with the eleven apostles."
So, Peter's criteria for this new apostle was that he had to have been with them from the beginning, "all the time that the Lord Jesus went in and out among us", so that he could be a true witness to everything Jesus had said and done. Two men fit the bill: Matthias and Joseph called Barsabus. As you can see, the apostles prayed and then cast lots. Matthias was chosen.
Little is known of Matthias, but the lost Gospel of Matthias of the New Testament Apocrypha was attributed to him. According to Nicephorus Callistus Xanthopoulos, the Byzantine historian, and the fifth century Synopsis of Dorotheus, Matthias preached the Gospel in Judea and the region of Colchis in Aethiopia (Ethiopia), while other traditions have him preaching in Cappadocia and around the coastline of the Caspian Sea. Nicephorus writes of him being martyred while Dorotheus has him dying at Sebastopolis and being buried near the Temple of the Sun there. Other traditions are that he was stoned to death, beheaded or killed by an axe or lance. Still others have him being imprisoned by Ethiopian cannibals and being rescued by the apostle Andrew, before going on to preach at Damascus and then dying peacefully at Phalaeon, in Judea. Hippolytus of Rome writes of him dying of old age in Jerusalem. He's a bit of a mystery character! Whatever the case, he was with the other apostles at Pentecost, when the Holy Spirit came down on them, and it appears that he went on to preach and spread the Christian faith.
Notes and Sources
Acts 1: 12-17, Acts 1: 21-26, King James Version, https://www.biblegateway.com/
Feast of St. Matthias, Apostle, by Thomas More College - http://www.thomasmorecollege.edu/blog/2010/05/14/feast-of-st-matthias-apostle/
St. Matthias, Catholic Online, http://www.catholic.org/saints/saint.php?saint_id=5
Saint Matthias, Believe Religious Information Web-site, http://mb-soft.com/believe/txx/matthias.htm
Maitland, F. W. (2013) Essays on the Teaching of History, Cambridge University Press, p. 24.
McDowell, Sean (2015) The Fate of the Apostles: Examining the Martyrdom Accounts of the Closest Followers of Jesus, Routledge, p. 255.
Matthias, International Standard Bible Encyclopedia Online, http://www.internationalstandardbible.com/M/matthias.html
Saint Matthias, Wikipedia, https://en.wikipedia.org/wiki/Saint_Matthias
Image: Saint Matthias, workshop of Simone Martini.