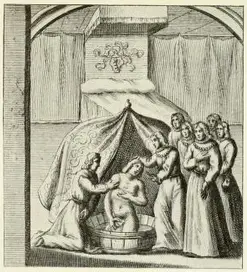 On either 22nd or 23rd1 June 1509, before his joint coronation with Queen Catherine of Aragon on 24th June, King Henry VIII created twenty-six2 Knights of the Bath at the Tower of London.
Letters and Papers names the knights as "Richard (sic) Radclyff lord Fitzwater, the lord Scroop of Bolton, the lord Fitzhugh, the lord Mountjoye, the lord Dawbeney, the lord Brooke, Sir Henry Clyfford, Sir Maurice Berkeley, Sir Thomas Knyvet, Sir Andrew Wyndesore, Sir Thomas Parr, Sir Thomas Boleyne, Sir Richard Wentworth, Sir Henry Owtrede, Sir Francis Cheyny, Sir Henry Wyotte, Sir George Hastynges, Sir Thomas Metham, Sir Thomas Bedyngfeld, Sir John Shelton, Sir Giles Alyngton, Sir John Trevanyon, Sir William Crowmer, Sir John Heydon, Sir Godarde Oxenbrige and Sir Henry Sacheverell."
Who were these men?
Well, do correct me if I'm wrong, but from my research they were:
Robert Radcliffe, Baron Fitzwalter, who was appointed to Henry VIII's privy council in 1526 and who was created Earl of Sussex in 1529. He went on to serve as Henry VIII's Chamberlain of the Exchequer and Lord Great Chamberlain, as well as serving as a soldier.
Henry Scrope, 7th Baron Scrope of Bolton, who later served his king at the Battle of Flodden in 1513 and in the borders in the 1520s.
Lord Fitzhugh - I think this must be George Fitzhugh, 7th Baron Fitzhugh, who died in 1513.
William Blount, 4th Baron Mountjoy, who was Master of the Mint in 1509, Governor of Tournai in 1513, and who went on to serve as Catherine of Aragon's Lord Chamberlain.
Henry Daubeney, 1st Earl of Bridgewater and 2nd Baron Daubeney, son of Giles, 1st Baron Daubeney. He served at the Battle of Spurs and was present at the Field of Cloth of Gold.
Lord Brooke - I think this must be Thomas Brooke, 8th Baron Cobham, who died in 1529, and who served Henry VIII at the Siege of Tournay and the Battle of Spurs in 1513, and who was present at the Field of Cloth of Gold.
Henry Clifford, 1st Earl of Cumberland, and son of Henry Clifford, 10th Baron Clifford. Clifford was a close friend of the king and was later made Warden of the West Marches and Governor of Carlisle Castle, and then a Knight of the Garter.
Sir Maurice Berkeley - Maurice was de jure 4th Baron Berkeley and was the eldest son and heir of Maurice Berkeley, de jure 3rd Baron Berkeley, of Thornbury Castle.
Sir Thomas Knyvet was a close friend of the king and was made his Master of the Horse in 1510. He died in 1512 after his ship perished in the Battle of St. Mathieu, off the coast of Brest.
Andrew Windsor, 1st Baron Windsor, served the king in France in 1513 and attended on Mary Tudor, the king's sister, on her journey to France in 1514. He served as Keeper of the Wardrobe from 1504-1543.
Sir Thomas Parr was the father of Catherine Parr, Henry VIII's sixth and final wife. He was a close friend of the king, and his wife, Maud, served Queen Catherine of Aragon.
Sir Thomas Boleyn was the father of Anne Boleyn, Henry VIII's second wife, and was a gifted diplomat and loyal servant of the king.
Sir Richard Wentworth was the son of Sir Henry Wentworth of Nettlestead, Suffolk.
Sir Henry Ughtred was the son of Sir Robert Ughtred of Kexby, Yorkshire.
Sir Francis Cheyney was the son of William Cheyney of Shurland Hall and the step-brother of Sir Thomas Cheyney, who became a favourite of Henry VIII and Anne Boleyn. Francis died in 1512.
Sir Henry Wyatt, father of poet and diplomat Sir Thomas Wyatt the Elder. Henry was one of King Henry VII's executors and became one of Henry VIII's privy councillors on his accession.
Sir George Hastings, 1st Earl of Huntingdon, served the king in France and was a close friend of the king.
Sir Thomas Metham of Metham, Yorkshire.
Sir Thomas Bedingfield, must, I think, be a son of Sir Edmund Bedingfield, who served the king in the French wars and was in charge of Catherine of Aragon during her exile at Kimbolton Castle, and a brother of Sir Henry Bedingfield.
Sir John Shelton of Shelton, Norfolk, married Anne Boleyn, Thomas Boleyn's sister, and so was uncle to Queen Anne Boleyn. He later served as comptroller of the joint household of Mary and Elizabeth, the king's daughters.
Sir Giles Alington was the son of Sir Giles Alington, Lord of the Manor of Horseheath, Cambridgeshire. He served as High Sheriff of Cambridgeshire and Huntingdonshire.
Sir John Trevanion was the son of John Trevanion of Trevanion, Cornwall. He was mayor of Dartmouth, Devon, and later served as comptroller of customs, Plymouth and Fowey.
Sir William Crowmer - I'm not sure who he is, but he could be related to Sir William Cromer, Lord Mayor of London, who died in 1434.
Sir John Heydon of Baconsthorpe, Norfolk, was the son of Sir Henry Heydon and Ann Boleyn,daughter of Sir Geoffrey Boleyn (great-grandfather of Queen Anne Boleyn). He married Katherine Willoughby, daughter of Sir Christopher Willoughby of Parham, Suffolk.
Sir Goddard Oxenbridge of Brede Place in Brede, East Sussex, is known for the legend of the Brede Giant or the Sussex Ogre. He was a very large man and was said to be invulnerable to metal weapons. He was also said to eat children.
Sir Henry Sacheverell or Sackveyle.
The Order of the Bath
The following is taken from an article I wrote on the Knights of the Bath created in May 1533 for the Anne Boleyn Files...
Major-General Sir George Younghusband, in his book The Tower from Within, describes the traditional coronation ceremony of creating Knights of the Bath in relation to the coronation of Henry IV. He writes that forty-six baths were arranged in one of the halls of the White Tower. Each bath had a canopy over it and was filled with warm water and draped with clean sheets. The forty-six knights bathed and then a procession, led by the King, entered the hall. The King the approached each Knight, still in his bath, and dipped his finger into the bath water and made the sign of the cross on the Knight's bare back. While he did this, the King said:
"You shall honor God above all things ; you shall be steadfast in the faith of Christ ; you shall love the King your Sovereign Lord, and him and his right defend to your power ; you shall defend maidens, widows, and orphans in their rights, and shall suffer no extortion, as far as you may prevent it ; and of as great honor be this Order unto you, as ever it was to any of your progenitors or others."
When he had done this to all forty-six knights, King Henry IV processed out of the hall. The knights then dried themselves off and were put to bed in "beds with rich hangings", which had been placed behind their baths. After they had rested for a while, they were summoned to rise by the curfew bell of the Bell Tower. Their esquires helped them dress as monks in long brown woollen cassocks, with cowls, then they processed into St John's Chapel as music played. Their new helmets, armour, swords and spurs had been arranged around the high altar, "and before these each Knight knelt in devotion, and watched his armour all night".
That is what happened at Henry IV's coronation in 1399 and it gives us a good idea of what took place on 22nd/23rd June.
Also, on this day in history, 22nd June 1559, Queen Elizabeth I's Prayer Book was issued - click here for more information.
Notes and Sources
Edward Hall records that Henry created the men Knights of the Bath on 22nd June, but Letters and Papers states that the ceremony took place on 23rd. These men served him dinner on 22nd so perhaps they are both talking about the same night, the night of 22/23rd.
Edward Hall states that 24 men were created Knights of the Bath, but there are 26 names on the list in Letters and Pers
'Henry VIII: June 1509, 16-30 ', in Letters and Papers, Foreign and Domestic, Henry VIII, Volume 1, 1509-1514, ed. J S Brewer (London, 1920), pp. 36-55. British History Online http://www.british-history.ac.uk/letters-papers-hen8/vol1/pp36-55.
Hall's Chronicle, p. 507.