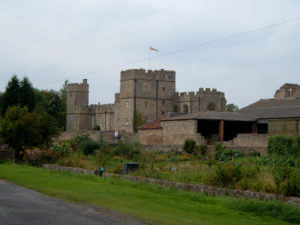 John Neville, the 3rd Baron Latimer, was born on 17th November 1493 and was the eldest son and heir of Richard Neville and his wife Anne, daughter of Sir Humphrey Stafford.
Although the Neville family was prominent in Tudor England, little is known about Neville's early life, but we know that by 1520, he was married to Dorothy, daughter of Sir George de Vere, 14th Earl of Oxford. However, sadly she died seven years after the marriage, in 1527, and by 20th June 1528, John had married Elizabeth, daughter of Sir Edward Musgrave. Sadly, Elizabeth also died, however, we do not know in which year.
John Neville married his third and final wife, Katherine Parr, in the summer of 1534. Katherine Parr was the daughter of Sir Thomas Parr of Kendal, and she had been married previously to Sir Edward Borough.
When Henry VIII decided to invade northern France in 1513, Neville accompanied him, and following the Battle of Tournai was knighted on 14th October in Lille. By 1522, Neville had acquired favour at court, and in 1529 he was elected to the Reformation Parliament as one of the two knights of the shire for the Yorkshire region. He was also acting as his father's spokesman with the northern lords, and in June 1530, he was elected to be a member of the king's council of the north. Following his father's death in December 1530, Neville succeeded to the Latimer barony, and he became a member of the Lords. By 1531 he had obtained the livery of his father's lands; however, by 1534, he still had not paid off all the debts that were due to the king.
Latimer, like many, if not the majority of Henry's lords, signed the letter to Pope Clement VII in 1530 in favour of Henry's divorce from Katherine of Aragon. It is believed, however, that under the influence of Katherine Parr, he gained significant evangelical and reformist sympathies. Latimer also came under suspicion during the Pilgrimage of Grace, and in October 1536, he was urged to prevent the spread of civil unrest but failed to do so. He was the leading magnate of Mashamshire at the time, his principal residence being Snape Castle – which is now a beautiful private home.
His involvement in the Pilgrimage of Grace is ambivalent at best, and we don't really know why he failed to act, with some believing that he was captured and blackmailed by the rebels. Whatever happened, we do know that he acted as their representative in Doncaster on 27th October and managed to bring some of the brewing conflict to a peaceful conclusion.
He was suspected of being involved in further insurrection in 1537, and Thomas Cromwell, in particular, doubted his loyalty. However, nothing serious came of Cromwell's suspicions, with Latimer instead surrendering his London house to Cromwell to further avoid suspicion. By 1538, Latimer was deemed to be trustworthy, and he attended the parliaments held in 1539, 1540, and 1542 being appointed steward of Galtres Forest in 1542. Later that year, he was also actively involved in a campaign against the Scottish.
Latimer died on 2nd March 1543 and is buried in St Paul's Cathedral. His wife, Katherine Parr, as we know, became the 6th and final wife of King Henry VIII.
By Georgia Whitehead
Georgia has just finished her masters in Classics at the University of Edinburgh. Academically, Georgia is interested in early Christianity, with her master's thesis focusing on "The Male Gaze and Self-Representation in Female Christian Narratives". In addition to her interest in ancient history, she has always been an avid lover of the Tudor era, drawn to the magnificence of the Tudor courts and the larger than life characters. She is particularly interested in The Reformation, Christianity and the shifting sands of ecclesiastical politics in this period and also has a keen interest in the lives of Tudor women. It is Georgia's ambition to become a writer, perhaps publishing her own Tudor novel one day.
Georgia also runs a history blog and instagram page called Historia Mundis.
Bibliography
R. R. Reid, The king's council in the north (1921)
R. W. Hoyle, The Pilgrimage of Grace and the politics of the 1530s (2001)