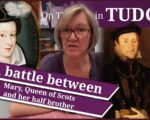 On this day in Tudor history, 13th May 1568, the forces of Mary, Queen of Scots, met those of her brother, the Regent Moray, at the Battle of Langside in Scotland.
Mary, Queen of Scots was defeated soundly, but what happened and why was she fighting against the regent acting on behalf of her son, King James VI? What had led to this moment.
I explain all in today's talk.
[Read More...]