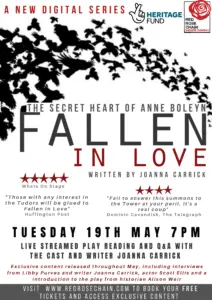 I went to see the play, Fallen in Love, when it was performed on 19th May at the Tower of London a few years ago. It was brilliant. The story of Anne Boleyn's fall is told by just two characters, Anne and George Boleyn, and it's incredibly moving.
This year, the Red Rose Chain are commemorating the anniversary of Anne Boleyn's executuion with a live reading of the play. Here is the information they sent me...
The year is 1536. The woman who changed the world forever by capturing the heart of a king faces trial with her brother for adultery, incest and treason.
We are very excited to launch our new digital series for FALLEN IN LOVE, the critically acclaimed play by Joanna Carrick telling the story of the rise and fall of Anne Boleyn.
This May, we will be releasing exclusive content from this remarkable play, the first of Joanna Carrick's Tudor Trilogy, exploring the 16th century through the eyes of three extraordinary women who shaped it: Anne Boleyn, Suffolk Martyr Alice Driver (Put Out The Lights) and Queen Elizabeth I (Progress).
This series will feature conversations with the cast and creatives and culminate in a special online event on Tuesday 19th May with a live play reading of FALLEN IN LOVE, followed by a Q&A session with the cast and writer Joanna Carrick.
"A live reading of Fallen in Love by two extraordinary actors on 19th May, the anniversary of Anne's execution. This play is the first in my Tudor Trilogy and has a very special place in my heart. It's a gut wrenching story about two very complex people living in an extreme and dangerous world. It's going to be an emotional event and something very special to share. Please join us." Joanna Carrick, writer and Artistic Director of Red Rose Chain
Date and time: Tuesday 19th May, 7pm
Price: FREE
This is a FREE event and accessible online. Link to the live stream event will be available before the performance and you can find out more and book your tickets by visiting the website https://redrosechain.com/falleninlove/ and here is a link to the Facebook event - https://www.facebook.com/events/239451553805936/
Ticket holders will get priority access to exclusive online content from FALLEN IN LOVE from the cast and creatives. So book your tickets now so you don't miss out!