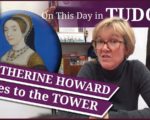 On this day in Tudor history, 10th February 1542, Catherine Howard, King Henry VIII's fifth wife, was escorted by barge from Syon House, where she'd been kept since November 1541, to the Tower of London in preparation for her execution.
Sadly, the queen would have seen the heads of her former lover, Francis Dereham, and her sweetheart, Thomas Culpeper, as she made her way to the Tower – a reminder of her own fate.
Find out more in today's talk.
[Read More...]