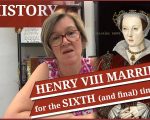 On this day in Tudor history, 12th July 1543, Henry VIII got married for the sixth and final time.
The fifty-two-year-old king married thirty-one-year-old Catherine Parr, Lady Latimer, in the Queen's Closet of the Chapel Royal at Hampton Court Palace.
In today's talk, I share a contemporary account of the wedding service, as well as telling you about who attended the ceremony.
[Read More...]