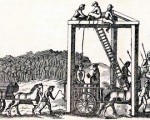 Back to executions – sorry, not sorry! There aren't many days which are free of executions and today we have two!
On this day in Tudor history, 13th March 1601, Henry Cuffe and Sir Gelly Meyrick were hanged at Tyburn for their part in the disastrous Essex's Rebellion of February 1601.
Who were these men and how did they become involved in the rebellion led by Robert Devereux, 2nd Earl of Essex, a former favourite of Queen Elizabeth I?
[Read More...]