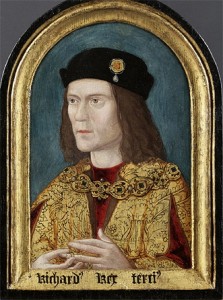 On this day in history, 2nd October 1452, Richard III, the last Plantagenet king, was born at Fotheringhay Castle, Northamptonshire.
Richard was the youngest surviving child of Richard, 3rd Duke of York, and Cecily Neville. Richard claimed the English throne in June 1483, claiming that his brother Edward IV's sons were illegitimate because Edward had been pre-contracted to another woman when he married Elizabeth Woodville. Richard III was killed at the Battle of Bosworth on 22nd August 1485, and Henry Tudor claimed the throne as Henry VII.
Although we are the Tudor Society, rather than the Plantagenet Society, we have lots of articles and resources on Richard III, click here to explore the archives. The March 2015 edition of Tudor Life magazine was a Richard III special so click here to enjoy that now.
Toni Mount, who writes regular articles for Tudor Life magazine has devised an excellent online course on Richard III and the Wars of the Roses and you can find out more at MedievalCourses.com.