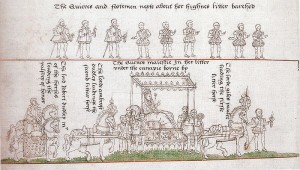 On 14th January 1559, the eve of her coronation, Queen Elizabeth I processed from the Tower of London to Westminster in a cloth of gold covered litter carried by two mules.
Here are the main parts and pageants of the procession from Fenchurch onwards:
Fenchurch - Here, was the first formal greeting from the city with an oracion in English verse given by a boy.
Gracechurch Street - This first main pageant referred to Elizabeth's genealogy, her Tudor roots and the history of the House of Tudor. The people were reminded that her name sake and grandmother Elizabeth of York had brought peace to the land by marrying Henry Tudor and uniting the warring Houses of York and Lancaster. Elizabeth, too, would bring peace and unity to the land.
Cornhill - This pageant referred to Elizabeth's new government as being upheld by four virtues: True Religion, Love of Subjects, Wisdom and Justice. These virtues 'trod' on their contrary vice: superstition and ignorance, rebellion and insolence, folly and vain glory, and adulation and bribery.
Soper's Lane - Here, just beyond the Great Conduit in Cheapside, there was a third pageant based on the New Testament Beatitudes and, as David Starkey explains in his book Elizabeth, applied them to Elizabeth's sufferings at the hands of her sister.
Little Conduit, Cheapside – One tableau had "Time" as its theme and Time's daughter, Truth, carried an English Bible labelled the "Word of Truth", which Elizabeth's government was said to possess. The second tableau attacked Mary I's reign, contrasting "a decayed commonwealth" on one craggy and barren hill, to "a flourishing commonwealth" symbolised by a fresh, green and beautiful hill.
St Paul's School, the Churchyard, where a child delivered an oration in Latin.
Ludgate – where the Queen "was received with a noise of instruments".
The conduit in Fleet Street – This fifth pageant depicted Elizabeth as the prophetess Deborah, "the judge and restorer of the house of Israel" who rescued Israel from Jabin, King of Canaan. Like Deborah, Elizabeth would reign over her people for over forty years.
Temple Bar - "which was dressed finely with two images of Gogmagog the Albion and Corineus the Britain, two giants bigger in stature" holding a tablet with verses written in Latin.
Elizabeth then departed Temple Bar heading towards Westminster. The shouting and crying of the people was described as similar to the noise of the ordinance which the Tower shot at her entrance into Tower Street earlier that day. The procession ended at Westminster in readiness for Elizabeth's coronation ceremony the next day in Westminster Abbey.
The procession was recorded for posterity in a pamphlet, The Quenes Maiesties Passage through the Citie of London to Westminster the Day before her Coronacion, which was printed on 23 January 1559, and Tudor Society members can enjoy my Claire Chats video on this primary source and Elizabeth's coronation procession - click here.