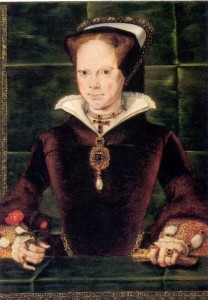 On this day in history, Sunday 1st October 1553, the first official queen regnant of England was crowned at Westminster Abbey. Her name was Mary and she was the daughter of King Henry VIII and his first wife, Catherine of Aragon. She was crowned Queen Mary I and she reigned from 19th July 1553 to her death on 17th November 1558.
The coronation ceremony lasted from 11am, when Mary processed into Westminster Abbey to 4pm, when Mary processed out of the abbey and into Westminster Hall for her coronation banquet.
Click here to read primary source accounts of Mary I's coronation.
Tudor Society members can read all about Mary I in our Mary I ebook, part of our ebook series - click here.