Today's Sunday fun is a crossword puzzle to test your knowledge on witches and witchcraft.
If you haven't listened to Kate Cole's excellent expert talk on the subject then you might want to listen to that first - click here.
To open and print out the puzzle, simply click on the link below or the picture of the puzzle: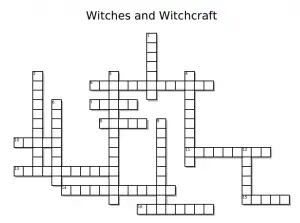 Note: For clue 10, all three women were called Joan and there are two answers that fit but only one that fits with the other words!
You can also find out a bit more about the Essex Witches hanged in 1589 in an article I wrote - click here.