9 May
1509 - The body of Henry VII was taken to St Paul's.
1538 – Marie de Guise (Mary of Guise) and James V of Scotland were married by proxy at the Château de Châteaudun, with Robert Maxwell, 5th Lord Maxwell, standing in for James.
1558 – Death of Sir Philip Hoby, diplomat and administrator, at his home in Blackfriars, London. He had risen due to his friendship with Cromwell, and in Edward VI's reign, he was resident ambassador to the Emperor and a Privy Councillor.
1597 – Death of Thomas Hide, religious controversialist and writer of "A Consolatorie Epistle to the Afflicted Catholikes". He fled into exile in Louvain in Elizabeth I's reign after he was labelled as a man who favoured the old religion. He then moved to Douai, where he died in 1597.
1657 – Death of William Bradford, founder of the Plymouth Colony, in Plymouth. He is also known for "Of Plimmoth Plantation", his chronicle of the founding of the colony and its early years.
10 May
1509 – Birth of Edward Stanley, 3rd Earl of Derby and Privy Councillor to Mary I and Elizabeth I. He was born in Lancashire and was the eldest surviving son of Thomas Stanley, 2nd Earl of Derby, and his wife, Anne Hastings.
1533 – Opening of special court at Dunstable by Archbishop Cranmer to rule on the validity of the marriage of Henry VIII and Catherine of Aragon. On 23rd May, Cranmer's court ruled that the marriage between Henry VIII and Catherine of Aragon was against the will of God, and declared that the marriage was null and void.
1536 - Giles Heron, foreman of the Grand Jury of Middlesex and son-in-law of the late Sir Thomas More, announced that the jury had decided that there was sufficient evidence to suggest that Anne Boleyn, George Boleyn, Mark Smeaton, Sir Henry Norris, Sir Francis Weston and Sir William Brereton were guilty of the alleged crimes carried out at Hampton Court Palace and Whitehall, and that they should be indicted and sent to trial before a jury.
1536 - Sir William Kingston, the Constable of the Tower of London, was ordered "to bring up the bodies of Sir Francis Weston, knt. Henry Noreys, esq.William Bryerton, esq. and Mark Smeton, gent. at Westminster, on Friday next after three weeks of Easter", i.e. on 12th May. This would be the day of their trial.
1552 – Suicide of John Clerk, author and secretary to Thomas Howard, 3rd Duke of Norfolk, in the Tower of London. Clerk hanged himself with his girdle after books about necromancy were found in his possession, and he was interrogated regarding "lewd prophecies and slanders".
1553 – The first expedition of the Company of Merchant Adventurers (Mystery and Company of Merchant Adventurers for the Discovery of Regions, Dominions, Islands, and Places unknown), led by Sir Hugh Willoughby, left London in search of a Northeast passage for Asia.
1554 – Death of Thomas Goodrich, Bishop of Ely and Lord Chancellor during the reign of Edward VI. He died at the palace of Somersham, Huntingdonshire, and was buried in Ely Cathedral. His tomb brass shows him in Protestant episcopal dress and with the Bible and Great Seal in his hands.
11 May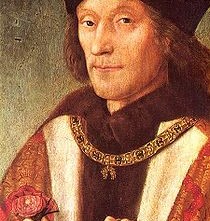 1509 – Henry VII was laid to rest next to his wife, Elizabeth of York, in Westminster Abbey. You can see pictures of their tomb and funeral effigies at http://westminster-abbey.org/our-history/royals/henry-vii-and-elizabeth-of-york
1532 – Henry VIII accused the clergy of being "scarce our subjects", and attacked their oath to the Pope.
1536 – The Grand Jury of Kent met in front of Chief Justice John Baldwin and six of his colleagues at Deptford. They met to rule on the alleged crimes committed at Greenwich Palace, East Greenwich, and Eltham Palace by Queen Anne Boleyn, Sir Henry Norris, Sir William Brereton, Sir Francis Weston, George Boleyn (Lord Rochford) and Mark Smeaton. It was ruled that the Queen and the five men would stand trial. See The Ruling of the Grand Jury of Kent and Queen Anne Boleyn's alleged crimes.
1537 - Blessed John Rochester and Blessed James Walworth, Carthusian monks from the London Charterhouse, were hanged in chains from the battlements of York. They had been tried in the city for treason for denying the King's supremacy following the Pilgrimage of Grace rebellion.
1560 – Death of Thomas Wendy, physician to Henry VIII and Queen Catherine Parr, at Haslingfield. According to martyrologist John Foxe, Wendy helped to save Catherine Parr from a plot against her. He also attended the dying King in January 1547.
1560 – Burial of John Falconer, physician and botanist, at St Stephen's Church, Coleman Street, London. Falconer. He is known as the first English person to have owned a herbarium.
1598 – Death of Edward Drew, lawyer, member of Parliament and Recorder of London, at Broad Clyst in Devon from gaol fever, which he had picked up working on the Northern Circuit. He was buried in Broad Clyst Parish Church.
1607 – Burial of Sir Edward Dyer, courtier and poet, at St Saviours, Southwark. With Philip Sidney and Fulke Greville, Dyer made up the "happy blessed Trinitie" that Sidney wrote of. His known works included the poems "The Songe in the Oke", "The lowest trees have tops" and "He that his mirth hath lost". He also dabbled in alchemy, studying under John Dee.
1610 – Death of Sir Henry Maynard, administrator. He was buried at St Mary the Virgin in Little Easton, Essex. Maynard served William Cecil, Lord Burghley, as his Chief Secretary and then, after Burghley's death, he became Secretary to Lord Admiral Nottingham.
12 May
1521 – Cardinal Wolsey announced the papal bull against Martin Luther in a ceremony outside St Paul's. Luther's books were then burned.
1536 - Mark Smeaton, Sir Henry Norris, Sir Francis Weston and Sir William Brereton were tried at a special commission of oyer and terminer, just a day after the Grand Jury of Kent had assembled, and only eight days after Weston and Brereton had been arrested. All four men were found guilty on all charges, declared traitors and sentenced to the usual traitor's death, to be hanged, drawn and quartered at Tyburn. Click here to read more.
1536 - Thomas Howard, 3rd Duke of Norfolk, was appointed Lord High Steward of England in readiness for ruling, as Lord President, over the trials of Anne and George Boleyn. Click here to read more.
1537 – John Hussey, Baron Hussey, was charged with treason, for conspiring against Henry VIII and raising a rebellion against the King in Lincoln during the Pilgrimage of Grace. Hussey was executed in Lincoln on 29th June 1537.
1538 – John Forest, a Franciscan friar, refused to recant his allegiance to Rome.
13 May
1515 – Official marriage of Mary Tudor, Queen of France, and Charles Brandon, Duke of Suffolk, at Greenwich Palace, following their secret marriage in France.
1536 – Queen Anne Boleyn's royal household at Greenwich was broken up, even though she hadn't been tried yet. Click here to read more.
1568 – Mary, Queen of Scots's forces were defeated at the Battle of Langside.
1619 – Funeral of Anne (Anne of Denmark), consort of James VI and I. She was buried in Henry VII's Chapel in Westminster Abbey.
14 May
1511 – Death of Walter Fitzsimmons, Archbishop of Dublin and Lord Deputy of Ireland, at Finglas, Dublin. He was buried in the nave of St Patrick's Cathedral.
1523 – Death of Nicholas Vaux, 1st Baron Vaux, courtier and soldier, at the Hospital of the Knights of St John of Jerusalem in Clerkenwell.
1571 – Matthew Stewart, Earl of Lennox and regent to James VI, held the "Creeping Parliament".
1595 – Death of Anne Fiennes (née Sackville), Lady Dacre, at Chelsea. She was buried in the More Chapel, Chelsea, next to her husband, Gregory Fiennes, 10th Baron Dacre.
1629 – Death of Jean Gordon, Countess of Bothwell and Sutherland. She is known for having been married, albeit briefly, to James Hepburn, 4th Earl of Bothwell, who went on to marry Mary, Queen of Scots. In 1573 she married Alexander Gordon, 12th Earl of Sutherland, and after his death she married Alexander Ogilvy of Boyne, the man she had been in love with before she married Bothwell.
1635 – Burial of Helena Gorges (née Snakenborg), Lady Gorges, in Salisbury Cathedral. Helena was married twice, firstly to William Parr, Marquis of Northampton (brother of Catherine Parr), and secondly to Sir Thomas Gorges, courtier.
15 May
1464 – Execution of Henry Beaufort, 2nd Duke of Somerset, immediately after the Battle of Hexham. He was buried in Hexham Abbey.
1536 - Trials of Anne Boleyn and George Boleyn in the King's Hall at the Tower of London. They were both found guilty and sentenced to death. Click here to read about Anne's trial and here to read about George's.
1537 – Thomas Darcy, 1st Baron Darcy de Darcy, and his cousin, John Hussey, 1st Baron Hussey of Sleaford, were tried for treason at Westminster after being implicated in the Pilgrimage of Grace. "Letters and Papers" recorded the verdict as guilty and the sentence was "Judgment as usual in cases of high treason. Execution to be at Tyburn." They were actually beheaded.
1555 – Death of Sir Thomas Bromley, judge. Mary I made him her first Chief Justice of the Queen's Bench, but was unhappy when Nicholas Throckmorton was acquitted in 1554.
1556 – John Knox appeared in Edinburgh to face heresy charges.
1567 – The marriage of Mary, Queen of Scots and James Hepburn, 4th Earl of Bothwell, at Holyrood.