21 December
1495 – Death of Jasper Tudor, 1st Duke of Bedford and 1st Earl of Pembroke, at Thornbury. He was laid to rest at Keynsham Abbey, near Bristol. Jasper was the second son of Owen Tudor and Catherine of Valois, half-brother of Henry VI and uncle of Henry VII. It was alleged that he had an illegitimate daughter, Helen or Ellen, who was the mother of Stephen Gardiner, Bishop of Winchester.
1505 – Birth of Thomas Wriothesley, 1st Earl of Southampton, Lord Privy Seal and Lord Chancellor to Henry VIII. He was the eldest son of William Wriothesley, York herald, and his wife, Agnes, and cousin of Charles Wriothesley, the Tudor chronicler.
1539 – Death of Sir John Shelton, uncle (by marriage) of Queen Anne Boleyn and Controller of the Joint Household of Mary and Elizabeth, Henry VIII's daughters from July 1536. He was buried at Shelton Church in Norfolk, in the chancel.
1540 (or 1542) – Birth of Thomas Allen, mathematician, astrologer and antiquary, at Uttoxeter in Staffordshire. Allen is known for his knowledge of mathematics, history and antiquity, astronomy and astrology, and philosophy. He served as Robert Dudley, Earl of Leicester's astrologer and the horoscope he cast for poet Philip Sidney can be found in the Bodleian Library's Ashmole manuscripts. His links with John Dee, Thomas Harriot and other mathematicians, combined with his knowledge of astrology, led to him being labelled a necromancer or magician.
1549 - Marguerite of Navarre (also known as Margaret of Navarre, Marguerite of Angoulême and Marguerite de France) died in Odos in France at the age of fifty-seven. Marguerite was the daughter of Louise of Savoy and Charles of Orléans, Count of Angoulême.
1584 – Probable date for the death of John Herd, physician, author and Rector of Waddington. He was buried at Waddington. Herd had acted as Physician to Archbishop Thomas Cranmer from c.1551 until August 1555. Herd wrote a verse history of England, covering the period 1461-1509, and was also said to have written a catechism of Christian doctrine for the young.
1598 – Death of Thomas Owen, judge and member of Parliament. He was buried at Westminster Abbey. Owen served Elizabeth I as Serjeant-at-Law, Queen's Serjeant and Judge of the Court of Common Pleas.
1608 – Death of William Davison, diplomat and administrator, at Stepney. He was buried there, in St Dunstan's Church. Davison served Elizabeth I as a diplomat, carrying out embassies to the Netherlands and Scotland, and as secretary. He is mainly known for his role in the execution of Mary, Queen of Scots. Davison claimed that Elizabeth I signed Mary's death warrant and told him that she wished the execution to take place in the Great Hall of Fotheringhay Castle without delay. As instructed, Davison asked Sir Christopher Hatton, the acting Lord Chancellor, to seal the warrant with the Great Seal of England to validate it. Elizabeth, on the other hand, claimed that she had signed the warrant and then asked Davison not to disclose this fact to anyone. When she learned that it had been sealed with the Great Seal, she then asked Davison to swear on his life that he would not let the warrant out of his hands unless he had permission from her. After Mary's execution, the poor Davison was arrested, tried and sentenced to imprisonment in the Tower, and heavily fined.
22 December
1480 – Baptism of Sir Edward Chamberlayne, soldier, a leading member of Oxfordshire gentry and Commissioner of the Peace for Oxfordshire (1506-1539) at Weston in Northamptonshire.
1534 – An imprisoned John Fisher, Bishop of Rochester, wrote to Thomas Cromwell beseeching him to provide him with a shirt and sheet, neither of which he had, some food, some books "to stir his devotion more effectually" and a priest to hear his confession. He also asked Cromwell to intercede with the King and to "move" him to release Fisher from "this cold and painful imprisonment". Fisher had been imprisoned for denying the King's supremacy.
1541 - Several members of the Howard and Tilney family, plus their staff, were indicted for misprision of treason for covering up the "unlawful, carnal, voluptuous, and licentious life" of Queen Catherine Howard while she lived with the Dowager Duchess of Norfolk at Lambeth.
1545 – Birth of George Bannatyne, compiler of the "Bannatyne Manuscript", at Edinburgh. The "Bannatyne Manuscript" is an anthology of Scots literature and included poems by Bannatyne, Alexander Montgomerie, Alexander Scott, David Lyndsay, William Dunbar, Robert Henryson and King James I.
1557 – Burnings of John Rough and Margaret Mearing, Protestant martyrs, at Smithfield for heresy.
1558 (22nd or 28th) – Death of John Christopherson, Bishop of Chichester. He was buried at Christchurch, Newgate Street. He had been put under house arrest following his definition of Protestantism as "a new invention of new men and heresies" on 27th November 1558, preached in response to a sermon at Paul's Cross.
23 December
1513 – Birth of Sir Thomas Smith, scholar, humanist, colonialist diplomat (in Ireland) and political theorist, at Saffron Walden, Essex. He was the second son of sheep farmer, John Smith, and studied at Cambridge University and also in France and Italy. He served Edward VI as a Secretary of State, and was one of Elizabeth I's most trusted counsellors. He served her as a diplomat, Secretary of State and Chancellor of the Order of the Garter. Smith was the author of "De Republica Anglorum; the Manner of Government or Policie of the Realme of England" and "The Discourse of the Commonweal".
1556 – Burial of Nicholas Udall (Yevedale), schoolmaster, cleric, humanist and playwright, at St Margaret's, Westminster. His play "Ralph Roister Doister", which combined Latin comedy and English tradition, is regarded as the first English language comedy. He played a part in Anne Boleyn's coronation in 1533, composing verses for the pageant, and in 1534 he published his Latin text book, "Floures for Latine Spekynge". In 1541, Udall was imprisoned for a few months at Marshalsea after committing buggery with his pupil Thomas Cheney, but he was back in favour enough the next year to be leading a group of scholars in translating "The Paraphrase of Erasmus upon the New Testament" for Queen Catherine Parr.
Udall's other works included translations of Erasmus's "Apophthegms", Pietro Martire's "Discourse on the Eucharist" and Thomas Gemini's "Anatomia", and the play "Respublica".
1558 – Queen Elizabeth I moved from Somerset House to Whitehall Palace, which became her principal residence.
1558 – Death of Sir John Baker, administrator, Speaker of the House of Commons, Chancellor of the Exchequer and Under-Treasurer of England, in London. He was buried in Cranbrook Church in Kent.
1559 – Death of Henry Morgan, Bishop of St David's, at Wolvercote in Oxfordshire. He had been deprived of his bishopric after Elizabeth I's accession because of his refusal to accept the religious changes of her reign. He was buried at Wolvercote.
1568 – Roger Ascham, scholar and royal tutor, was taken ill, probably with malaria. He died on 30th December.
1588 – The assassination of Henri de Lorraine, 3rd Duke of Guise and founder of the Catholic League, at the Château de Blois. He was killed by King Henry III's bodyguards, "the Forty-five", in front of the King. His brother, Louis II, Cardinal of Guise, was assassinated the following day. The League had been controlling France, and the King was forced to act against it.
1599 – Burial of Thomas Byng, civil lawyer, Regius Professor of the Civil Law at Cambridge and Master of Clare College, Cambridge. He was buried in Hackney Church, Middlesex.
1607 – Death of Sir John Fortescue, Chancellor of the Exchequer and Chancellor of the Duchy of Lancaster in Elizabeth I's reign.
24 December
1545 - King Henry VIII made his final speech to Parliament. Historian Robert Hutchinson describes it as "both measured and compelling", and writes of how Henry wanted "to impart a stern message" to all of his subjects.
1604 – Death of Sir Thomas Cornwallis, Comptroller of the household of Mary I and member of Parliament, at the age of eighty-six. He was buried at Brome in Suffolk. Cornwallis was active in putting down Kett's Rebellion in 1549 and in 1553, after originally proclaiming Lady Jane Grey as Queen in Ipswich, he swapped sides and swore allegiance to Mary I.
25 December
Christmas Day - Happy Christmas!
1549 – Death of Stephen Vaughan, merchant, merchant adventurer, diplomat and administrator, in London. He was buried at London's St Mary-le-Bow. Vaughan served Sir Thomas Cromwell as a diplomat between 1524 and 1539, and moved into Henry VIII's service on Cromwell's fall. He acted as the King's Chief Financial Agent in the Netherlands from 1544 to 1546, and became Under-Treasurer of the Tower of London Mint in 1544.
1553 – Birth of Thomas Thomas, Puritan printer and lexicographer, in London. He became the printer of Cambridge University in 1583, and concentrated on printing Protestant theology and education works. He is known for his Latin dictionary.
1569 (25th or 26th) – Killing of Sir John Borthwick, soldier, diplomat and Protestant, near Bewcastle in Cumberland. He was killed by the Forster family as he was fighting on the side of James Stewart, 1st Earl of Moray and the Regent, against Mary, Queen of Scots's forces. Borthwick had served Edward VI as a diplomat, Elizabeth I as a military commander and Mary, Queen of Scots as a diplomat.
1587 – Death of Brian Darcy, magistrate, Sheriff of Essex, witch-hunter and contributor to the 1582 "A true and just recorde of the information, examination and confession of all the witches, taken at S. Oses". "A True and Just Recorde" argued for harsher punishments for those found guilty of witchcraft.
1634 – Death of Lettice Blount (née Knollys, other married names: Devereux and Dudley) at the age of ninety-one. Lettice died at her home at Drayton Bassett and was buried beside her second husband, Sir Robert Dudley, Earl of Leicester, in the Beauchamp Chapel of St Mary's Church, Warwick.
1596 – Death of Sir Henry Curwen, member of Parliament, Justice of the Peace and Sheriff. He served Edward VI, Mary I and Elizabeth I loyally.
26 December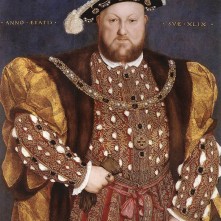 1526 – Birth of Rose Throckmorton (née Lok, other married name: Hickman), Protestant and businesswoman, in London. She was the third child of Sir William Lok, a mercer who had also served Henry VIII as a gentleman usher. Rose was married twice: to merchant Anthony Hickman and to Simon Throckmorton of Brampton.
1545 – Death of Sir George Bowes, soldier, rebel and Captain of Norham Castle. He was buried at Alnwick. Bowes was a member of the rebel army during the 1536 Pilgrimage of Grace, but the patronage of his uncle, Sir Robert Bowes, protected him. He fought in the 1542 Anglo-Scottish War and in the 1544 expedition. He was granted the Barony of Coldingham as a reward for seizing Coldingham Priory on November 1544, but was then taken prisoner in January 1545 and lost the barony.
1546 - Henry VIII made some changes to his will, a document which had been prepared two years earlier. These changes were made to ensure successful transfer of royal authority to his son, the future Edward VI, and to prepare for Edward reigning during his minority.
27 December
]1539 - Anne of Cleves landed at Deal in Kent. Anne was to be Henry VIII's fourth wife and their marriage was agreed upon by a treaty in September 1539.
1583 – Death of Katherine Killigrew (née Cooke), scholar and puritan, after giving birth to a stillborn child. She was buried at St Thomas the Apostle Church in London. Katherine was the daughter of scholar and royal tutor Sir Anthony Cooke, and the wife of diplomat Sir Henry Killigrew. She was known for her ability at writing poetry and her knowledge of languages, including Hebrew, Latin and Greek.
1530 – Death of Thomas Lupset, clergyman and humanist scholar, at Bisham from tuberculosis. He was buried in St Alfege Church, Cripplegate. Lupset joined the household of John Colet in his youth and was taught by William Lilye before attending Pembroke Hall, Cambridge, where he worked with Erasmus on the "New Testament". Lupset tutored Cardinal Wolsey's son, Thomas Wynter, and was friends with Thomas More, Reginald Pole and John Leland. His works included "Exhortacion to Young Men", "A Treatise of Charitie" and "Dieyng Well".
1603 – Death of Thomas Cartwright, theologian, Puritan and Master of the Earl of Leicester's Hospital in Warwick. He spent his last days in Warwick and was buried there. Cartwright is known for the struggle between him and John Whitgift, the man who deprived Cartwright of his position as Lady Margaret's Professor of Divinity at Cambridge. Cartwright supported the attack on the Elizabethan church in the form of "An Admonition to the Parliament" by preachers John Field and Thomas Wilcox. Whitgift answered with "Answere to a Certan Libel Intituled, 'An Admonition'", Cartwright replied with "Replye", Whitgift answered again with "The Defense of the Aunswere to the 'Admonition', Against the 'Replie'" and Cartwright responded with "The Second Replie" and "The Rest of the Second Replie".
1615 – Death of John Fenn, Roman Catholic priest and translator. He was buried in the cloister of St Monica's English Augustinian monastery in Louvain, where he was chaplain. Fenn had settled in Louvain while in exile during Elizabeth I's reign. His works included an English translation of Bishop Osorius's treatise against Walter Haddon: "A Learned and Very Eloquent Treatie, Written in Latin", translations of works by John Fisher, Bishop of Rochester, and the Council of Trent's catechism, and Concertatio ecclesiae catholicae in Anglia, which he co-edited with John Gibbons, a Jesuit.