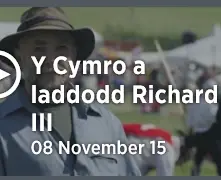 You can watch last night's programme "Y Cymro a Laddodd Richard III" (The Welshman Who Killed Richard III) on the S4C website at http://www.s4c.cymru/clic/e_level2.shtml?programme_id=529919428. Do watch it as soon as possible because the video is only there for a limited time.
If you can't understand Welsh then you can turn English subtitles on (bottom right next to volume). Enjoy!
Talking of Rhys ap Thomas, the man believed to have killed Richard III, the second part of Susan Fern's talk on him is now live on site - click here.