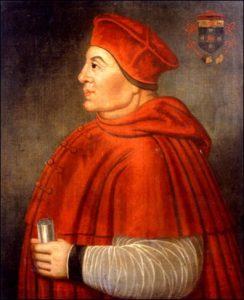 As today is the anniversary of Cardinal Thomas Wolsey's death on 29th November 1530, I thought today's "Throwback Thursday" treat could be Conor Byrne's article on the life of Wolsey...
Thomas Wolsey was born between 1470 and 1473 in Ipswich, Suffolk. He was the son of Robert and Joan Wolsey. Robert owned a tavern in the parish of St. Mary at the Elms in Ipswich. Traditionally, Wolsey's father has been identified as a butcher and cattle dealer. Thomas Wolsey's humble origins proved a source of mirth to his critics during his long career. During his childhood and adolescence, Wolsey attended school in Ipswich and later studied at Magdalen College, Oxford, graduating with BA in 1486 when he was about fifteen years old. A decade later, he was ordained as a priest in the parish church of St. Peter in Marlborough. The year before, he graduated with MA. For a short period, Wolsey served as master of Magdalen School and, later, as dean of divinity.
During the first decade of the sixteenth century, Wolsey resided in the household of Henry Deane, Archbishop of Canterbury, whom he served as chaplain. Later, he served Sir Richard Nanfan, treasurer of Calais, and after Nanfan's death in 1507 Wolsey took up the post of royal chaplain in the service of Henry VII. He became attached to Richard Fox, Bishop of Winchester, and Sir Thomas Lovell, and was recommended by them to visit Emperor Maximilian in Flanders. Wolsey visited Scotland the following spring, meeting with James IV. The following year, Wolsey was rewarded with the deanship of Lincoln Cathedral and the prebend of Welton Brinkhall. Upon Henry VIII's accession in 1509, Wolsey was appointed royal almoner. According to George Cavendish, Wolsey's gentleman usher, Wolsey endeavoured to attend the king daily at court, and developed a close relationship with him. Henry rewarded him with the deanship of Lincoln and Hereford, and was later made registrar of the Order of the Garter and canon of St. George's, Windsor.