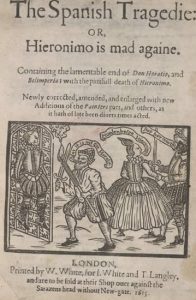 On this day in history, 15th August 1594, the playwright Thomas Kyd was buried at St Mary Colechurch in London. Kyd is known for his play The Spanish Tragedy (c.1587), and some scholars believe that he wrote a "Hamlet" play before that of William Shakespeare.
Thomas Kyd was born in 1558 to Francis Kyd, a scrivener, and his wife, Anne. Although we don't know the date of Kyd's birth, we know that he was baptised at the church of St Mary Woolnoth in London on 6th November 1558. Usually, a baby was baptised within just a few days of birth so Kyd was probably born in the first few days of November.
In 1565, at the age of around seven, Kyd started at the Merchant Taylor's School, where he was educated until 1575. Subjects taught included Latin, French and Italian, and Kyd would also have had the opportunity to perform in plays during his time there.
We know very little about Kyd's life, but we know now that he wrote The Spanish Play, which was performed by Lord Strange's Men at the Rose Theatre for Philip Henslowe on 23rd February 1592, and which went on to be performed twenty-nine times between 1592 and 1597. Kyd's biographer, J. R. Mulryne, also points out that "The publication record is still more impressive, with at least eleven editions between 1592 and 1633, a tally unequalled by any of the plays of Shakespeare."
In May 1593, Kyd was arrested and imprisoned after his rooms and offices were searched and "vile heretical Conceiptes denyinge the deity of Jhesus Christe or Savior" were allegedly found. Kyd pleaded his innocence, claiming that the papers belonged to fellow playwright Christopher Marlowe. Marlowe was arrested and released, but then died after being stabbed to death at a house in Deptford Strand, near London. Kyd was eventually released but died in 1594 at the age of about thirty-six. Mulryne wonders whether his imprisonment, and perhaps torture, hastened his death.
Kyd also translated Padre di Famiglia (The Householder's Philosophy) by Torquato Tasso and Cornelia by Robert Garnier. He is also linked to the play Soliman and Perseda and the pamphlet The Murder of John Brewen. Some believe that he was the author of Ur-Hamlet, a Hamlet earlier than William Shakespeare's version, but others reject this idea.
Notes and Sources
Mulryne, J. R.. "Kyd, Thomas (bap. 1558, d. 1594)." J. R. Mulryne In Oxford Dictionary of National Biography, online ed., edited by David Cannadine. Oxford: OUP, 2004.