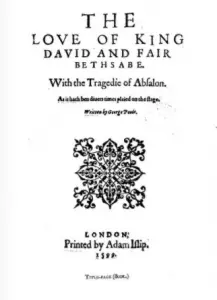 Today is the anniversary of the baptism of poet and playwright George Peele on 25th July 1556 at St James Garlickhythe, London. As is the case with many Tudor people, his date of birth is unknown but it is likely to have been just a few days before his baptism.
Peele was one of the younger sons of James Peele, who was the author of books on book-keeping and who also wrote and organised pageants for the City of London, and his first wife, Anne. James became clerk of Christ's Hospital in November 1562 and the family moved there. Between 1562 and 1571, George Peele was educated at the petty school and grammar school of the hospital, and then in 1571 he went on to study at Oxford, first at Broadgates Hall (now Pembroke College) and then at Christ Church. He graduated BA in 1577 and MA in 1579, both from Christ Church. While he was at college, Peele translated Euripides' Iphigenia and he also wrote his poem The Tale of Troy.
Peele returned home to London briefly in 1579, following his mother's death, but was back in Oxford in 1580 when he married a sixteen-year-old heiress called Anne Cooke (or possibly Christian). For the next four years, Peele and his wife were involved in legal disputes over Anne's merchant father's legacy. They moved to London in 1581 and in 1582 Peele contributed poetry to Thomas Watson's Hekatompathia or Passionate Centurie of Love. In 1583, he directed plays and entertainment for the visit of Albertus Alasco, a Polish Count Palatine, to Christ Church, Oxford. Between 1583 and 1584, his play The Arraignment of Paris was performed for Queen Elizabeth I by the Children of the Chapel. At this time, he also wrote the pastoral The Hunting of Cupid and the play The Turkish Mahomet and Hiren the Fair Greek.
In the mid to late 1580s and 90s, he was in charge of the pageants for the City of London and two of these have survived: The Device of the Pageant Borne before Woolstone Dixi, Lord Maior of the Citie of London (1585) and Descensus Astraeae (1591). Peele's father died penniless in December 1585 and Christ's Hospital gave money to his widow, his second wife Christian Widers, to pay for his burial. In 1589, Peele wrote the poem A Farewell: Entituled to the Famous and Fortunate Generalls of our English Forces to commemorate the departure of Sir Francis Drake and Sir John Norris on an endeavour against the Spanish. This poem was published with his earlier poem, The Tale of Troy. He also wrote works to mark the return of Robert Devereux, Earl of Essex, from the Norris and Drake mission, two Accession Day royal tournaments (17th November 1590 and 1595) for Elizabeth I, and Henry Percy, 9th Earl of Northumberland being inducted into the Order of the Garter. In 1595, his play The Old Wives' tale was performed by the Queen's Players.
There is a possibility that Peele remarried after losing his wife in 1587, marrying Mary Yates (Gates) in 1591.
In January 1596, Peele sent one of his daughters to William Cecil, Lord Burghley, with Peele's Tale of Troy. It was a plea for help as Peele was ill and in need of money. Reid Barbour, Peele's Oxford DNB biographer, writes that "Burghley responded by filing the request for patronage together with others made by those supplicants least worthy of any response". Unfortunately, Peele died on 9th November 1596, aged forty, and was buried in St James's Church, Clerkenwell.
Peele's works include:
Plays:
The pastoral comedy The Arraignment of Paris
Famous Chronicle of King Edward the First
The Battle of Alcazar
The Old Wives' Tale
The Love of King David and fair Bethsabe
The Hunting of Cupid
Turkish Mahomet and Hiren the Fair Greek
Poems:
The Tale of Troy
A Farewell: Entituled to the Famous and Fortunate Generalls of our English Forces
An Eclogue Gratulatorie: Entituled, To the Honorable Shepheard of Albions Arcadia
Polyhymnia Describing, the Honourable Triumph at Tylt
Anglorum feriae
The Honour of the Garter: Displaied in a Poeme Gratulatorie
Pageants:
The Device of the Pageant Borne before Woolstone Dixi, Lord Maior of the Citie of London
Descensus Astraeae
Sources and Further Reading
Barbour, Reid. "Peele, George (bap. 1556, d. 1596)." Reid Barbour In Oxford Dictionary of National Biography, online ed., edited by David Cannadine. Oxford: OUP, 2004.
Ashley, Leonard (1970) George Peele, Irvington Pub.
Prouty, Charles Tyler (1961) Life and works of George Peele - Volume II can be read online at https://archive.org/details/lifeworksofgeorg02peel
ed. Bullen, A.H. (1888) The Works of George Peele - read at https://archive.org/details/worksgeorgepeel00peelgoog
You can read many of George Peele's works on Archive.org - click here to browse them.