3 August
1528 – Death of Hugh Inge, Archbishop of Dublin and Lord Chancellor of Ireland, from sweating sickness in Dublin. He was buried in St Patrick's Cathedral, Dublin.
1548 – Birth of Sir Robert Houghton, judge, Treasurer (1599) and Sergeant-at-Law (1603), in Gunthorpe, Norfolk.
1549 – Lord Russell marched his 1000 men from Honiton to Woodbury and set up camp for the night. He was heading towards Clyst St Mary and the rebels of the Prayer Book Rebellion.
1553 - Mary, who had just been proclaimed Queen Mary I, rode with her half-sister, Elizabeth, from Wanstead to Aldgate to be greeted by the city as its new Queen.
1558 – Burial of Thomas Alleyne, clergyman and benefactor, at St Nicholas Parish Church, Stevenage. Alleyne was known for his support of education, through his financing of schoolmasters and the free tuition he arranged for boys.
1562 – Death of John de Vere, 16th Earl of Oxford, leading magnate in Essex and notorious rake, at Hedingham Castle in Essex.
4 August
1540 - Brother William Horne, laybrother of the London Charterhouse was hanged, disembowelled and quartered at Tyburn. He was the last of the Carthusian martyrs to be killed after eighteen members of the Carthusian order of monks based at the London Charterhouse were condemned to death in 1535 for refusing to accept King Henry VIII as the Supreme Head of the Church.
1549 – The Battle of Woodbury Common, part of the Prayer Book Rebellion. The battle took place at 4am and happened when the rebels, who had been defending Clyst St Mary, marched to Woodbury Mill where Lord Russell and his troops had camped for the night. The rebels were defeated.
1557 – Burial of Anne of Cleves, fourth wife of Henry VIII, at Westminster Abbey.
1560 – Baptism of Sir John Harington, courtier, translator and author, in the church of All Hallows, London Wall. His godparents were Elizabeth I and William Herbert, 2nd Earl of Pembroke. In his "New Discourse of a Stale Subject, called the Metamorphosis of Ajax" (1596), Harington outlined his design for a flush toilet – a privy with a cistern and flush valve. The Ajax, as it was called, was eventually installed at Richmond Palace. See
Sir John Harington's Flush Toilet
.
1566 – Death of Sir Martin Bowes, goldsmith, politician, Lord Mayor of London and Under- Treasurer of the Royal Mint in the Tower of London. He was buried at St Mary Woolnoth, Lombard Street, London.
1578 – Death of soldier Thomas Stucley at the Battle of Alcazar. Stucley was fighting against the Moors, with King Sebastian of Portugal, when his legs were blown off by a cannon shot.
1598 - William Cecil, 1st Baron Burghley, died at his home in London aged seventy-six. He was laid to rest at St Martin's Church, Stamford, in his home county of Lincolnshire.
1612 – Death of Hugh Broughton, scholar, theologian and Hebraist, in Cheapside, London. He was buried at St Antholin's Church. Broughton spent the last twenty years of his life petitioning for a new translation of the Bible. His works included "A Concent of Scripture" (1588), "An Epistle to the learned Nobilitie of England, touching translating the Bible from the Original" (1597) and "An Advertisement of Corruption in our Handling of Religion" (1604).
5 August
1503 – Death of Sir Reynold (Reginald) Bray, administrator in the reign of Henry VII. He served the King as Chancellor of the duchy of Lancaster, Treasurer of England and Treasurer for war. Some say that he was an architect and designed Henry VII's Chapel in Westminster Abbey, St George's Chapel in Windsor Castle, where he is buried, and Great Malvern Priory. He definitely funded their building.
1532 – Death of Sir Nicholas Harvey, diplomat, at Ampthill, Bedfordshire. He was buried in Ampthill Church where his memorial brass can still be seen.
1549 – The Battle of Clyst St Mary during the Prayer Book Rebellion. The Devonian and Cornish rebels were defeated by Lord Russell's troops, and around 900 prisoners were massacred later that day on Clyst Heath.
1551(5th or 6th August) – Death of Henry Holbeach, Bishop of Lincoln, at Nettleham.
1600 – Deaths of John Ruthven, 3rd Earl of Gowrie, and his brother, Alexander Ruthven, Master of Ruthven, at Gowrie House near Perth. The brothers were killed as they tried to kidnap James VI. They were posthumously found guilty of treason on 15th November 1600 and their bodies hanged, drawn and quartered in Edinburgh.
1601 – Burial of Henry Norris, 1st Baron Norris of Rycote, courtier, diplomat and son of Sir Henry Norris, one of the men executed for alleged adultery with Queen Anne Boleyn. Norris was buried at the chapel at Rycote in Oxfordshire.
6 August
1504 – Birth of Matthew Parker, Archbishop of Canterbury, in the parish of St Saviour, Norwich. Parker was the son of worsted weaver William Parker and his wife Alice Monings [Monins] from Kent.
1514 – Marriage of Margaret Tudor, sister of Henry VIII and widow of James IV of Scotland, and Archibald Douglas, 6th Earl of Angus, at Kinnoull in Perthshire.
1549 – Battle of Clyst Heath during the Prayer Book Rebellion. Upon hearing of the news of the massacre at Clyst St Mary, Two thousand rebels made their way to Clyst Heath where Lords Russell and Grey were camped, and opened fire. The battle lasted all day, but the rebels were defeated in the end. The 18th century historian, John Hooker, wrote of the battle: "Great was the slaughter, and cruel was the fight; and such was the valour of these men, that the Lord Grey declared that he never, in all the wars that he had been, knew the like."
Russell marched on to Exeter to relieve the city, which had been under siege for five weeks.
1623 – Death of Anne Hathaway, wife of William Shakespeare. Anne was buried next to her husband in the Church of the Holy Trinity, Stratford-upon-Avon.
7 August
1514 – Peace treaty signed between England and France, arranging the marriage of the widowed fifty-two year old Louis XII of France and the eighteen year-old Princess Mary Tudor, sister of Henry VIII.
1541 – Death of Sir Richard Weston, courtier and father of Sir Francis Weston who was executed in 1536 for alleged adultery with Queen Anne Boleyn. Richard served Henry VII as Groom of the Chamber and Henry VIII as an Esquire of the Body, Governor of Guernsey and treasurer of Calais. He was buried in Holy Trinity Church, Guildford.
1549 – The five year-old Mary, Queen of Scots set sail from Dumbarton, Scotland, for France. A marriage had been agreed between Mary and Francis, the Dauphin, so Mary was going to be brought up at the French court. Mary arrived at Saint-Pol-de-Léon, near Roscoff in Brittany, just over a week later.
1574 - Sir Robert Dudley, mariner, cartographer and landowner, was born on this day in 1574 at Sheen House, Richmond. He was the illegitimate son of Robert Dudley, Earl of Leicester and favourite of Elizabeth I, and his lover Lady Douglas Sheffield, daughter of William Howard, 1st Baron Howard of Effingham, and widow of John Sheffield, 2nd Baron Sheffield.
1600 – Burial of Sir Thomas Lucy in the parish church at Charlecote, Warwickshire. Lucy was a magistrate and member of Parliament, but is best known for his links with William Shakespeare. Tradition has it that Shakespeare wrote a satirical ballad about Lucy, or he made a caricature of him in the character of Judge Shallow, as revenge after he was judged too harshly for poaching on Lucy's estate, Charlecote Park. There is no evidence to support this story.
1613 – Death of Sir Thomas Fleming, Solicitor-General to Elizabeth I and James I, at Stoneham Park. He also served James I as Chief Justice of the King's Bench. He was buried at North Stoneham Church.
8 August
1503 – The formal wedding of Margaret Tudor and James IV of Scotland in the chapel of Holyroodhouse. The couple had been married by proxy on 15th January 1503 with Patrick Hepburn, the Earl of Bothwell and Lord High Admiral of Scotland, standing in for James. Bothwell was the great-grandfather of James Hepburn, 4th Earl of Bothwell, husband of Mary, Queen of Scots.
1553 – Burial of Edward VI in a white marble vault beneath the altar of Henry VII's Lady Chapel in Westminster Abbey. His grave was unmarked until a memorial stone was placed in front of the altar in 1966. The funeral service was performed by Thomas Cranmer, in keeping with Edward VI's Protestant faith, so Mary I attended a private mass for her half-brother's soul in the Tower of London.
1558 – Birth of George Clifford, 3rd Earl of Cumberland, courtier and privateer, at Brougham Castle, Westmorland. Elizabeth I nicknamed Cumberland her "rogue", and he was her Champion from 1590 until her death.
1560 – Death of William May, Archbishop-elect of York, in London. He died on the day that he was elected Archbishop.
1570 – Execution of John Felton, Roman Catholic martyr, at St Paul's Churchyard. He was hanged, drawn and quartered.
1573 – Death of Simon Renard, Imperial Ambassador, in Madrid, Spain.
1586 or 1587 – Execution of John Finglow, Roman Catholic priest and martyr, at York. He also was hanged, drawn and quartered.
1588 - Elizabeth I decided to accept the Earl of Leicester's invitation, and set out to visit the troops he had gathered near Tilbury Fort, to bring comfort to them.
9 August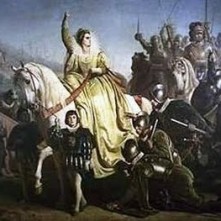 1556 – Funeral of Sir William Laxton, Lord Mayor of London (1544-5) and one of the wealthiest London merchants, at the parish church in St Mary Aldermary. The funeral was followed by a banquet hosted by the Grocers' Company of London and a mass led by John Harpsfield, Archdeacon of London.
1557 – Burial of the composer Nicholas Ludford in St Margaret's Church, Westminster. Ludford is known for his festal masses, which can be found in the Caius and Lambeth choirbooks (1521-27) and the Peterhouse partbooks (1539-40), and has been described as ""one of the last unsung geniuses of Tudor polyphony" (David Skinner).
1561 - Elizabeth I issued a royal mandate "that no manner of person, being either the head or member of any college or cathedral church within this realm, shall, from the time of notification hereof in the same college, have, or be permitted to have, within the precinct of any such college, his wife, or other woman, to abide and dwell in the same, or to frequent and haunt any lodging within the same college, upon pain that whoever shall do to the contrary shall forfeit all ecclesiastical promotions in any cathedral or collegiate church within the realm".
1588 – Elizabeth I appeared before her troops at Tilbury and gave her "Tilbury Speech".
1611 – Death of John Blagrave, mathematician and land surveyor. He was buried in St Lawrence's Church, Reading. Blagrave's works included "The Mathematical Jewel" (1585), Astrolabium Uranicum generale (1596) and "The Art of Dyalling" (1609). He also designed and made instruments, including sundials and astrolabes.